Captivated by beauty of temple
The Star, September 25, 2005
Ipoh, Perak (Malaysia) -- Cave temples have always held a certain fascination for many; its natural stalactite and stalagmite formations are a spectacular work of art that never ceases to amaze.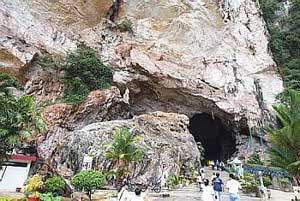 << AWESOME: Kek Look Tong cave temple in Ipoh is breathtaking with its natural rock formations.
Owned and managed by Kek Look Seah, a charitable Buddhist organisation, Kek Look Tong has increasingly become one of Ipoh's more popular tourist spots.
Upon arrival, we were greeted by our hosts, Kek Look Seah president Chung Thim Lam and vice-president Chung Yew Tong, at the staircase by the temple entrance.
The staircase, 81-year-old Thim Lam tells us, is in the shape of a carp's tail. Even its interior is shaped like that of a carp, adds his son, Yew Tong, 57.
True to expectations, the cave temple was breathtaking. We could not help but marvel at the natural beauty of the rock formations and the cleanliness of the surroundings within.
As we toured the temple, we found 13 Buddhist and Taoist statues of fibreglass and bronze, sculpted by Taiwanese craftsmen under the supervision of the Kek Look Seah committee.
"The president and some of the committee members made quite a number of trips to Taiwan at their own expense just to make sure the statues were built according to specifications," says Yew Tong, who was also our tour guide for the day.
If the temple's interiors were beautiful, Kek Look Tong's gardens were equally as spectacular.
The garden, which features well-manicured lawns, a fishpond and a lotus pond, as well as a reflexology footpath, is the temple's crowning glory, having won numerous state- and national-level landscape awards.
"Our vision is to promote tourism in Malaysia, particularly in the state of Perak. To achieve our aim, we plan to keep the temple and its grounds clean and beautiful always," says Yew Tong.
Such beauty comes with a story that dates back 85 years.
We were told that Buddhist and Taoist devotees had been worshipping at the cave as far back as the 1920s. Back then, the cave was narrow and muddy, and the floors uneven.
By the 1950s, the cave, which was taken over by a miner called Chooi Ah Kee, became a short cut for lorries transporting iron ore from a mine within the temple grounds. Even so, the cave remained a place of worship.
Chooi donated the cave temple to Kek Look Seah in 1982.
Restoration work began two years later and, with generous donations from the public, the temple is today one of Ipoh's more notable landmarks.
"Kek Look Tong would not be what it is today without the help of the community," says Thim Lam.