Wheel of time set to roll at Amaravati
by Terry Kennedy, Deccan Herald, Nov 20, 2005
Amaravati is gearing up for the Kalachakra ceremony that will be held in next January. Terry Kennedy details the preperations being made.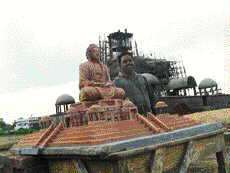 Amaravati, India -- Ah, bliss! After a two-day visit to the ancient Buddhist site where His Holiness the 14th Dalai Lama will perform the Kalachakra (wheel of time) ceremony in January 2006, I fell in love with Amaravati. This cozy, little village of about 4000 inhabitants is situated on the sandy banks of the Krishna river in Guntur district, Andhra Pradesh.
Holy Buddhist site
Amaravati, which means place of no death, is supposed to be one of the holiest Buddhist sites in the world. The 'Mythological Buddha', Dipankara Sumedha, according to D Khanna Babu, curator of the Archeological Survey of India Museum at Amaravati, "was allegedly born here."
However, Tibetan Buddhist scriptural scholars state that the historic Buddha, Shakyamuni (sage of the Shakya clan), or Siddartha, as he is also known, instructed his disciples and gave the first Kalachakra empowerment here. Essentially, this empowerment occurs when a master teacher awakens within the student an altruistic longing to attain full enlightenment for the benefit of all beings and become a Buddha in one's lifetime.
Kalachakra refers both to a meditational deity and to a Buddhist tantric practice belonging to the highest yoga tantra associated with this deity. According to Tibetan folk belief, recipients of a Kalachakra empowerment go to live in the paradise of Shambala after death. More importantly, perhaps, this tantra is one of the richest sources of the study of the Buddhist systems of cosmology, astrology, astronomy, subtle energy, and mind/body relationships.
This Kalachakra will be His Holiness the 14th Dalai Lama's 30th transmission of the empowerment.
Making the upcoming event even more memorable, perhaps, is the news from scholar Jeremy Russell, affiliated with Norbulingka Institute in Himachal Pradesh, "… that H H the Dalai Lama will first teach from Nagarjuna's text, Fundamental Wisdom, and then offer the Kalachakra empowerment..."
Interesting exhibits
Amaravati, with the help of electronic communications, is about to become a world-wide tourist attraction that some say will make it equal to Bodh Gaya, where the prince of the Shakyas gained enlightenment.
Meanwhile, I had come to Amaravati to write a perfunctory story. I had no idea how extraordinary my visit would turn out to be. I was primarily interested in learning what preparations were being made for the arrival of His Holiness the Dalai Lama. But the magic and mystery of Amaravati changed my focus.
For instance, I got to leisurely view the site and remains of an ancient Buddhist monument, referred to as the Maha Stupa located there, as well as the sculptures, terracotta figurines and intricately carved limestone slabs depicting Shakyamuni Buddha's life, the Wheel of Dharma, and other artifacts— many rescued from the Maha Stupa ruins— on display at the well-maintained local museum.
Most startling, though, was that by some sort of karmic serendipity, D Khanna Babu offered to show me the relics of Lord Shakyamuni Buddha preserved there. The next day, Babu solemnly carried a deep-lavender, velvet jewel casket, bracketed in gold, into a sitting room of the museum where I was waiting. He ceremoniously handed me a huge magnifying glass then opened the casket. After he had slowly unwrapped the items and placed them on a coffee table, I peered through the looking glass and saw first, what I was told was a fragment of bone, said to have come from Lord Shakyamuni Buddha's mortal remains and next, a few small flowers preserved in gold.
These relics will be on display for general viewing during Kalachakra 2006, museum sources said.
But will all the preparatory work get done? There's still so much that needs to be completed before the landscape, once predominately grazing fields, becomes a fully functioning center for those attending Kalachakra 2006. Still, in this frenetic activity, there is a sense of holy purpose as well. The workers I met, of all castes and creeds, are resolved to meet their completion deadlines. It is as if they are aware that they are part of history in the making.
Decking up Amaravati
In spite of the fact that the state government has st aside a Rs 53-crore budget to be spent on developing, protecting, and ensuring the security of all visitors, there still could be a scarcity of rooms in Amaravati. Besides having only a few rudimentary hotels and lodges, all the dormitories in hostels, classrooms, and even open verandas that are doubling as guest quarters have already been reserved, according to tourist facilitators.
Just how many people and their gear and their kids and their vehicles can you spread out on the 180 acres that have been donated and rented out for the event? Not surprisingly, many visitors will be staying in Gunter, 35 km away or Vijayawada, 50 or 65 km distant, depending on which road they take.
Obviously, under these circumstances any enterprising soul with space for an extra bedroll could become a landlord. And this might be what is going to happen. At the last minute you might be able to rent a corner of someone's quaint little Amaravati home complete with masala chai. At least I am hoping that will happen.
In the interim, according to early press releases from the Norbulingka Institute organisers, people keep on registering. For example, thousands of foreign visitors from 48 countries have already dutifully checked in and booked accommodations via the official website: www.kalachakra2006.com.
Add to this mass of humanity the incalculable numbers of resident monks, nuns, and pilgrims (possibly not registered) who will be arriving as early as mid-December and you get an idea of how much cheese you have to pack in your lunch box, if you plan to avoid long lines at food stalls and makeshift eateries during the days of your stay.
Happily, many people will benefit from Kalachakra 2006 because of the vision of a few. Reportedly, the program is the result of a small number of Japanese students of Tibetan Buddhism from the Busshokai (Buddha Nature) Center of Kanzawa, who requested the ceremony be performed by the Dalai Lama.
Consequently, the spiritual leader of millions of Buddhists and temporal head of the Tibetan government-in-exile will perform preparatory rituals; give teachings and the empowerment respectively from January 5-16.
As for me, I also hope to attend. However, I must confess, the downloading of a registration form or paying by credit card, do not seem egalitarian methods. I refused to go that route. What about the common woman who hasn't got access to the World Wide Web or designer plastic, how is she supposed to find a place to sleep? I guess we'll find out when we arrive.