Miracle of faith
by Yvonne Bohwongprasert, Bangkok Post, Dec 20, 2005
Kyaikhtiyo Pagoda defies nature and laws of gravity. Pilgrims there know why
Yangon, Burma -- Burma is a melting pot of cultural diversity and mysticism that binds its people together through their strong faith in Buddhism. The nation's well preserved pagodas are a popular meeting place for locals looking for spiritual uplifting and an outlet from the pressures of making ends meet.
<< Kyaikhtiyo Pagoda or the Golden Rock draws Buddhist pilgrims all year round. The 22 feet pagoda sits on a slanting face of a rock.
Burma has always fascinated me because despite adverse economical and political conditions its people's faith in religion hasn't waned. Eager to find out just how much that was still true, I decided to join a pilgrimage to southern Burma's famed Kyaikhtiyo (Golden Rock) Pagoda, which stands on a gold-gilded boulder resting precariously on the edge of a cliff. The pagoda is said to have been built during the life-time of Lord Buddha.
I travelled there in the company of 20 other pilgrims who were well into their 50s and were more than willing to enlighten me with their knowledge about the life and teachings of Lord Buddha.
One of them was Uncle Bird who told me that every believing Buddhist attributes the miraculous way the rock stands on the cliff to the miracle power of the relic - a strand of Lord Buddha's hair - enshrined in the 22-foot pagoda. The hair is believed to have been passed on to a hermit by Lord Buddha himself.
Located in Mon state, the cliff in question is 3,615 feet above sea level on Mount Kyaikhtiyo. Getting there means enduring a bumpy ride up a winding road to a base camp in Kyaikhto town and from there it's a mile-long trek uphill or you can take a hammock-like contraption attached to bamboo poles carried by four men.
I decided to not tax my mind with what was in store for us and tried to enjoy the ride from Mingaladon Airport to Kyaikhto.
A number of artistically designed pagodas and Buddhist temples lined the route. The single-lane road was in poor condition and most of the buildings and their plumbing were rakish reminders from the colonial era (Burma won independence from Britain in 1948). Dilapidated and run-down vehicles transporting people and cattle were a common sight.
I heard drivers on Yangon-Mandalay Road honking their horns and missing by inches women walking with water jugs balanced on their heads and oxen pulling wobbly carts stacked high with hay as they tried to weave their way through the traffic.
"Nothing to get excited about, they haven't been hit," said our guide, Khan Sai, as I let out a shriek.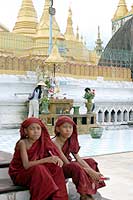 Young Burmese enter monkhood out of religious >>
obligation and also to escape poverty.
One of a handful of Thai speaking guides, Khan Sai said Burma was essentially a nation of eight major races - Shan, Rakkhine, Mon, Kayin, Kayah, Kachin, Chin and Bamar. It was popular among young men to enter monkhood and women to become nuns before adding that Burma had approximately five million monks.
"And why such passion," I asked? Aside from their religious obligation, he said university graduates nowadays were finding it difficult to find a job so they entered monkhood.
Khan Sai gave us a running commentary about the significance of Buddhist sites in Burma, in particular the Kyaikhtiyo Pagoda. "Kyaikhtiyo" translates into something like "the pagoda carried on hermit's head". According to popular legend, the hermit who received the strand of Buddha's hair tucked the holy tress into his hair which he wore into a bun until he found a boulder that resembled his head. He built the pagoda and enshrined the holy tress there.
Our group reached the city of Bago in high spirits. After a hearty lunch that included Thai dishes we departed for the base camp in Kyaikhto, some 160 kilometres from Yangon.
The Golden Rock Pagoda is Burma's most popular pilgrimage site because followers believe that a visit there will bring good health and fortune, said Khan Sai.
Being Saturday, there was a big crowd waiting for trucks to haul them there. After some pushing and shoving, we boarded a six-wheeler truck whose seats were plain wooden planks. The 11-km ride to the nearest spot to the pagoda had its scary moments. The road being in appalling state, we had to grip the railing firmly to avoid being tossed out the vehicle as the driver negotiated sharp mountain curves at high speed. The road ended about a kilometre and half from the pagoda from where it was a steep trek uphill.
Porters carry this visitor to her hotel in a hammock attached to two bamboo poles.
It's a bumpy and nerve-tingling ride on a six-wheeler to Kimmunsakhan base camp from where visitors trek up to Kyaikhtiyo Pagoda.
Trekking is a great way to enjoy nature and the serenity of the mountains.
Nursing a sore back I decided to go take the hammock. It was dusk by the time we reached Kyaikhto Hotel built on a hill side which gives magnificent view of the pagoda and surroundings.
Taking a stroll around Kyaikhtiyo Pagoda was a thought-provoking experience. We came across a large number of pilgrims, mostly Burmese. The atmosphere, even though it was chilly, was somewhat carnival as many of the pilgrims were spending the night in the open-air compound of the pagoda.
The air was thick with smoke from incense sticks and candles as pilgrims sat meditating. There was a spirit of unity among them. Most of them seemed to come from poor and middle class families, but what caught my attention was the fervour with which they offered their prayers and laid out alms for the deities and monks.
On close observation I found that the pagoda was built on a mammoth, almost egg-shaped rock perched on the summit of a tubular rock which separated several feet from the mountain by a chasm spanned by a small iron foot bridge.
Khan Sai said by gently rocking the boulder a thread could be passed underneath. It was late by the time we reached our hotel. Dinner consisted of simple but delicious stir-fried vegetables and soups.
The next morning we returned to watch the sun rise. At the top of the pagoda there was a platform that offered panoramic view of the surrounding areas. In the vastness of the green mountain ranges the rising sun was a spectacular sight. After giving alms to the monks, we decided to hike down the mountain to where the trucks were parked to take us back. On the way there is plenty of shopping opportunity. There are makeshift stalls selling souvenirs and herbal medicine.
I will always remember Burma fondly for its enchanting pagodas, its people and their faith in religion in the face of economic adversity.
MORE INFO
By Air: Domestic airline Phuket Air offers three days/two nights packages starting from 9,800 baht. Flights depart Bangkok every Saturday.
For more information or reservations call 02-679-8999 ext Sales Department.