Mount Wutai seeks world heritage listing
Xinhua News Agency, Dec 30, 2005
Shanxi Province, China -- China's most famous Buddhist mountain will file documents for UNESCO's World Cultural Heritage in February next year, according to local officials here.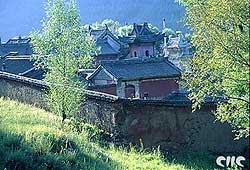 Mount Wutai, located in north China's Shanxi Province, is home to 47 Buddhist temples and more than 3,000 Buddhist monks and nuns.
It was designated as one of China's four shortlisted candidates for the United Nations Educational, Scientific and Cultural Organization's (UNESCO) World Cultural Heritage contest in 2006 earlier this month.
Wutai is one of the five most eminent Buddhist sacred places in the world and one of the four most famous Buddhist mountains in China. It boasts over 140,000 Buddhist statues and a large number of Buddhist classics and frescoes in its 45 ancient temples.
About Mount Wutai
Mount Wutai is located in Wutai County in Shanxi Province, about 120 kilometers north of the city of Taiyuan. It consists of five platform-shaped peaks, of which, the highest, at 3,058 meters above sea level, is called the "roof of North China." The weather here is cold and the peaks are snowcapped all year round. The slopes are thickly forested.
Legend says that a Manjusri (bodhisattva of Wisdom) visited this mountain and decided to stay. Being the most famous of the four mountains in China that are sacred to Buddhists (the others are Mount Emei in Sichuan Province, Mount Jiuhua in Anhui Province, and Mount Putuo in Zhejiang Province), mount Wutai draws pilgrims from China and other Asian countries to come and pay homage.
The first monasteries and shrines built on the mountain date back to the first century A.D. During the Tang Dynasty, when Buddhism enjoyed its zenith, there were more than 360 monasteries and shrines housing over two thousand monks and nuns. There are now forty-seven operating monasteries with over a hundred monks and nuns. On entering the town of Taihuai, one is struck by its Buddhist rituals: the burning of incense, the tolling of bells in the morning, and the beating of drums in the evening.
Prominence Monastery (Xiantongsi)
Located at the northern end of Taihuan, Mount Wutai's earliest monastery was first built in A.D. 58-75 during the reign of Emperor Yong Ping of the Eastern Han Dynasty. It includes four hundred halls and other buildings, one of which is a magnificent brick structure without a single roof beam. There are also a bronze hall three meters high, two bronze pagodas over six meters high, and a huge bronze bell weighing five thousand kilogrammes, all dating from the Ming Dynasty.
Buddha's Peak Monastery (pusadingsi)
This monastery is located on Divine Vulture Peak on the northern end of Prominence Monastery. Legend says that a Manjusri (Bodhisattva of Wisdom) resided here. Its main halls were mostly built with finely made bricks and colored glazed tile roofs. In an open courtyard there remains a cauldron, five feet in diameter and four feet deep, which was used by the monks to cook gruel for the poor twice a year. It was said that the cauldron was big enough to feed ten thousand persons and that after each meal, a young monk had to use an ox to drag away the rice crust. That, of course, was an exaggeration.
Another legend concerns Monk Lu Zhishen, who was fond of eating meat and drinking wine in defiance of religious discipline. His trouble-making exploits are related in the classic Chinese novel The Outlaws of the Marsh or The Water Margin.
Tayuan Monastery
Tayuan Monastery is located west of Prominence Monastery. An enormous white dagoba stands out in prominence among a cluster of temples and a grove of trees. It is regarded as the signpost of Mount Wutai. The dagoba is fifty meters high and hung with 250 bells that jingle pleasantly in the breeze.
Luohou Temple
This lamaist temple is located east of Prominence Monastery. First built in the Tang Dynasty and expanded during the Ming and Qing dynasties, it is one of the best-preserved monasteries on Mount Wutai. On June 14 of the lunar calendar, believed to be the birthday of the Bodhisattva Wisdom, one of his disciples, Luo Hou, is said to have danced a "ghost dance" to mark his birthday. Thereafter, on that day, monks performed a masked dance from dawn to dusk to the rhythmic beating of cymbals and drums.
Buddha's Halo Monastery (Foguansi)
This monastery is located thirty-two kilometers northeast of Wutai County. Surrounded by mountains on three sides, a cluster of halls and pavilions is set amidst a grove of pines and cypress trees. The monastery was built during the Northern Wei Dynasty and had its zenith in the Tang Dynasty plays an important role in the history of architecture. Sculptures, murals, stone buildings, gravestones, and white marble statures of the Tang dynasty represent the then highest achievement of Buddhist art.
Nanchan Monastery
This monastery is located twenty-two kilometers southwest of Wutai County. It is the oldest existing monastery of wooden structure dating from the Tang Dynasty. The monastery includes a gate, hall of the Dragon King (Longwangdian), Great Buddha (Dafodian), Hall of Bodhisattva (Pusadian), and other fine examples of ancient timber construction. On display at eh monastery are lifelike color sculptures comparable in style to those in Dunhuang in China' northwestern province of Gausu.
Source: China.org