Zhoushan: Buddha & Beach
CRIENGLISH.com, March 9, 2006
Zhoushan, China -- The Zhoushan Archipelago, in the East China Sea, is China's largest group of islands. It is composed of over 1,300 islands, which are well known as both a tourist attraction and a center of Buddhist culture.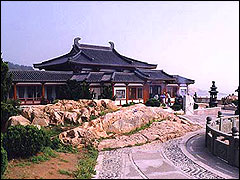 << Putuo Mountain (Photo: China News Service)
China's largest archipelago, Zhoushan, is also a developing Chinese port. The Zhoushan multi-island city lies in the middle of the Zhoushan Fishery area, one of the world's four largest fisheries. It is located in the central part of China's coastline, and not away from Shanghai, the largest commercial city in China.
Zhoushan city is composed of the 1,339 islands that form the archipelago, the largest of which is the 502-square-kilometre main island.
The marine area has a monsoon climate with an average temperature of 16 degrees Celsius. Comfortably warm in winter and cool in summer, Zhoushan has a pleasant atmosphere and beautiful scenery. Within the archipelago, there are two state-owned scenic resorts -- Putuo Mountain and Shengsi Island, and two provincially managed scenic areas -- Mount Dai and Taohua Island. Beautiful sunny beaches and Buddhist cultural elements are the biggest draw for tourists to the islands.
Putuo Mountain, located in the southeastern area of the islands, is one of China's most important holy Buddhist sites.
There is a story behind the mountains significance. Some 1200 years ago, during the Tang Dynasty, a Japanese monk named Hui'e visited the holy Buddhist site of Wutai Mountain of China's Shanxi province, where he obtained a bronze statue of the Goddess of Mercy. He intended to take the statue back with him to Japan, but as his ship neared Zhoushan's Putuo Mountain, it was caught in a raging storm. Hui'e believed this was a sign that the Goddess did not wish to leave her native land. So when the storm abated, he landed on the nearest island, where he then built a temple in honour of the Goddess.
He named it "Temple to the Goddess of Mercy, Who Refuses to Leave." In 1605, during the Ming Dynasty, Emperor Wanli changed the name to "Putuo Temple Blessing the Longevity of the State".
There are three other major temples on Putuo Mountain: Huiji, Puji and Fayu. Huiji Temple is located at the top of the mountain's Foding Peak, and bears an inscription by the renowned Chinese contemporary writer, Guo Moruo: "Buddhism atop Foding".
Puji Temple stands at the foot of the mountain. Built in 916 AD, it is the oldest and largest temple on Putuo Mountain. It is the primary location for worshipping the statue of the Goddess of Mercy and for performing important religious rites.
The construction of Fayu Temple, located on the side of Putuo's Baihua Peak, was completed in the year 1580, during the Ming Dynasty. The temple is built on the slope of the mountain, on a six-tiered stone structure that rises dramatically from the temple gate.