India's Little Tibet: Ladakh - A mystic land of adventure
By Siddhartha Kumar, Monster and Critics, Nov 14, 2006
Leh, Ladakh (India) -- After an almost reckless ride negotiating treacherous Himalayan roads amid snowfall to the world's highest motorable pass at Khardungla, the drive down to the gong-bells, butter-lamps and the chanting of Buddhist lamas at the serene Spituk monastery can truly alter the state of mind.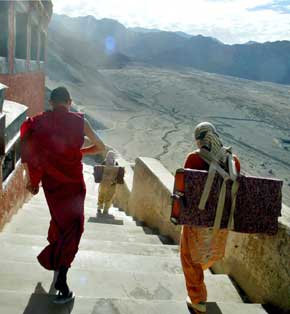 A blend of adventure and mysticism make for the unique allure of Ladakh, also known as India's Little Tibet, which is among the world's highest inhabited plateaus.
Situated at more than 3,000 metres above sea level, it lies more than 600 kilometres north of New Delhi in the Jammu and Kashmir state.
Also popular as Moonland for its outlandish landscape of vast barren mountains, the bluest of skies and beautiful lakes that change colour during the day, Ladakh, a high-altitude desert is rugged and remote enough to attract adventure travellers who wish to trek or go on motorcycle tours.
Yet, the desolate and lofty mountains humble the visitor to embark on a journey within. Neighbouring Tibet and lying on the fabled Silk Route, the region has been a repository of myriad cultures and traditions, drawing visitors to its socio-religious culture steeped in Tibetan Buddhism.
The district has around 14 major monasteries including the Hemis and Lamayuru, which date back to the 11th century, the Pangong and Tsomoriri lakes, palaces, two-dozen trek routes, river-rafting activities and bustling Tibetan markets.
'After China annexed Tibet, it did not allow Buddhism to survive. Lamaism is alive mainly in the Ladakh belt. It is a combination of adventure and traditional Buddhism and culture that draws people to this region,' said Joel Adelson, a physician from San Francisco, US.
The lifestyle and culture of the locals is influenced by Tibet as Vajrayana Buddhism, the Tibetan form of Buddhism which emphasises rituals practiced there. Andreas Schulz and Ruth Mintel who are based in Germany have visited all Buddhist schools and monasteries in Ladakh.
'We come here to study Buddhism and trek. We feel God lives in this beautiful place,' Mintel said. More than 50 per cent of tourists here come from Europe, Rob Krol, a tour operator from the Netherlands said.
'I think it has to do with the mystery of life and of the mountains, tourists also see Buddhists living in peace, unlike the Tibetans dominated by China.'
'It is also a trekker's delight as it is remote and safe. It has both adventure and spirituality, a treat for the eye and soul,' Krol added.
Leh, the district headquarters, connected to Delhi by an hour-long flight has several scenic and historic places to offer. Besides Khardungla, located 37 kilometres away, the confluence of the Indus and Zanskar rivers at Sangam, the Shey Palace of the ruling Namgyal dynasty, and the Shanti Stupa from where one can get a bird's eye view of the town.
The district administration issues permits to visit several areas as Ladakh is a frontier region which India considers strategically important.
Various meditation courses including Vipassana are conducted at the Mahabodhi International Meditation Centre, not far from Leh, where Thai masters often hold classes.
Some tourists are keen to learn Tibetan Astrology and the Oracle. Increasing tourist numbers have in fact, helped preserve the local cultures and traditions.
'The tourists come and see how we lead our lives in a non- intrusive way. Some even live in our houses to see our lifestyles, food habits, traditions and how we practice Buddhism,' said Spalgun Thikse headman of Morup village.
Thubten Wangchuck, a monk at the Rizong Monastery said the visitors enquire about Buddhist religion and history, meditation and divination rituals and spend hours in the monasteries.
The interest in Ladakh is peaking, with the number of tourist arrivals surging from 18,000 annually in 2000 to 38,000 this year.
During the Ladakh festival in September, foreign tourists often outnumber locals on Leh's main thoroughfares and streets. Ladakhis adorned with gold and silver ornaments, turquoise headgears, sheepskin and traditional Snamney Chalak dresses lead processions, as villagers wearing colourful masks dance to the rhythm of cymbals, trumpets, flutes and bells.
Buddhist monks don yellow hats and burgundy robes follow, leading a dignified procession while youths posing as Silk Route traders astride Bactrian camels shout greetings, reminding one of the olden days.
'We visit this mystic land in August every year and stay here for a fortnight,' a Japanese couple said looking at the procession. 'This Indian Shangrila beckons us time and again'.
For more information, check www.incredibleindia.org, http://www.jktourism.org/