Thailand's Temple tales
by YVONNE BOHWONGPRASERT, Bangkok Post, Dec 7, 2006
Samut Songkhram is a short distance from Bangkok and its place in Thai history, temples and riverine ambience never fails to enchant visiting tourists
Samut Songkhram, Thailand -- Apart from the fertile soil, fresh seafood and numerous canals, the tiny coastal province of Samut Songkhram oozes with culture and history that are reflected through its numerous temples around which revolve around the lives of local people.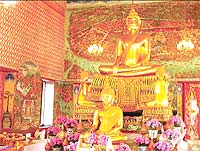 << Artwork in the chapel of Wat Amphawan depicts life during early Rattanakosin period.
The province is sandwiched between Ratchaburi, Samut Sakhon and Phetchaburi provinces, and has three districts: Muang Samut Songkhram, Bang Khonthi and Amphawa. Covering an area of just 416 square kilometres, it is Thailand's smallest province.
Travellers from Bangkok heading to Cha-am or Hua Hin on weekends tend to bypass Samut Songkhram without quite realising its worth as a holiday destination. It is here that descendants of the Chakri Dynasty have their roots. It is the birthplace of King Rama II, after whom is named a memorial park here.
The scenic Mae Klong River, which feeds several canals, is the main source of sustenance for local people, while boats are the popular mode of transportation. In fact, it's more convenient and faster to get around by boat in Amphawa than in a car due to lack of road signs and lush plantations which make the entire landscape look same everywhere.
The mid-afternoon sun shone intensely as we arrived in the province. A profusion of coconut palms made the area look unusually lush.
I marvelled at the flat terrain and abundant water resources as we made our way to Wat Bang Kung, a significant historical landmark that also served as a naval outpost during the reign of King Ekathat of Ayutthaya.
In the temple ground is a statue of King Taksin and life-size models of famous Muay Thai boxers in various poses. Here, a small chapel enmeshed in roots of an old banyan tree is the star attraction. The roots weave their way around the chapel like the arms of god, as if holding the structure in place.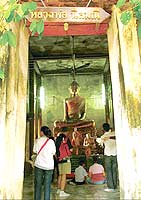 << Roots and branches of a banyan tree seem to lay siege to Wat Bang Kung that was also a naval outpost during the reign of King Ekathat of Ayutthaya
In the main building is a large stucco Buddha image that locals call Luang Pho Bot Noi. There are also murals from late Ayutthaya period depicting the life and various incarnations Lord Buddha. Some of the murals were showing their age, some fading and some virtually indistinct, but what they depicted are well documented in tourist books.
Bang Kung temple has an interesting history. According to our guide, it used to be a military camp that remained deserted for almost 200 years - until 1967 when the Ministry of Education established a boy scout camp at the site and erected a statue of King Taksin to commemorate his valour. It was here that his troops supported by Chinese soldiers fought alongside to beat back Burmese invaders.
Next we headed to Wat Amphawan Chetiyaram near the King Rama II Memorial Park. This temple was built by Princess Phrarubsirisophark- mahanaknari, the mother of Queen Amarintharamat, and subsequently renovated by Kings Rama III, IV and V. Its architecture and ancient artefacts in the main building date back to early Rattanakosin period.
Not far from the temple is an open-air market. Fresh produce from plantations nearby and orchids were on sale at reasonable prices.
Visitors interested in wood carvings should not miss Wat Bang Khae Noi's breathtaking chapel which took eight years to complete and is built from teak.
According to a senior monk there, a noted wood craftsman from Phetchaburi Province was hired for the wall-to-ceiling carvings that depict the teachings and life of Lord Buddha. As the monk turned on the light in the chapel I watched in awe at the exquisite workmanship. The temple edifice was constructed 130 years ago.
At the temple pier I could smell the fragrance from flowers planted in its garden before we left for our next destination, Wat Phet Samut Worawihan, known also as Wat Ban Laem.
Located in Samut Songkhram town, it too has an interesting history. Ban Laem residents have their roots in Phetchaburi, which they fled after their village was occupied by Burmese and settled in Samut Songkhram at a site they named Ban Laem after their former home.
As the community grew, they built a temple and enshrined there a Buddha image called Luang Pho Ban Laem. Highly revered by everyone, the image also made a strong impression on the monarch of the day who declared it a royal temple and gave the name Wat Phet Samut Worawihan.
The image has an interesting background. Fishing in a bay of the Mae Klong River one day, a villager casting his net trapped two Buddha images - one in sitting and the other in standing posture. The sitting image is enshrined at Wat Khao Ta Krau in Phetchaburi, while the standing image 1.67 metres tall is none other than Luang Pho Ban Laem's at Wat Ban Laem. It is said to be blessed with divine power.
There is also much to explore in the temple compound, including a museum full of rare Buddha images and amulets from various periods, ancient artifacts and a pulpit from the Ayutthaya period. The throng of worshippers I came across proved that their faith in Luang Pho Ban Laem hadn't diminished one bit over the years.
Any trip to Samut Songkhram isn't complete without a visit to the King Rama II Memorial Park which is currently undergoing a renovation and refurbishing to restore various structures in the compound to their former glory.
Foremost among the four buildings there is a museum and its distinctly Thai architecture. It exhibits objects of art dating to early Rattanakosin period and a peek at the lifestyle of people during the reign of King Rama II. The main hall houses his statue and personal artefacts.
Also showcased are Thai musical instruments, porcelain vases, old paintings, an open-air theatre, a botanical garden, and at the park's entrance shops selling local goods and fruits that make for interesting take-home buys.
More INFO
Car
Drive from Bang Pakaew T-intersection onto the Thon Buri-Paktho Road and take Highway No. 35 through Mahachai-Naklua intersection. At Km 64, turn right into Muang Samut Songkhram.
Bus
The Transport Company operates daily service between Bangkok and Samut Songkhram. Buses leave daily from the Southern Bus Terminal on Boromratchonnanee Road. Call 02-435-5031 for air-conditioned and 02-434-5557-8 for non air-conditioned buses.
Train
From Wong Wian Yai railway station there is daily train service to Samut Songkhram. Get off at the station in Samut Sakon and take a boat to Ban Laem which is connected by train to Samut Songkhram.
You can also take a train from Wong Wian Yai and get off in Mahachai, and from there take a bus to Samut Songkhram.
For more information, call the railway station in Wong Wian Yai at 02-465-2017.
Festivals
King Rama II Memorial Festival is held every February at a park by same name in Amphawa district.
Songnam Luang Pho Wat Ban Laem religious rites are held annually April 13-19 at Wat Phet Samut Worawihan in Muang district.
The Large White Pomelo Fair is held every year late August.
The Lychee Day Fair takes place early April in Amphawa district.
Annual Longboat Racing is held during Loy Krathong Festival in November at Wat Rat Peng in Muang district.
Accommodation
For a list of hotels, contact the Tourism Authority of Thailand(TAT) Central Region Office at 03-247-1005/6 or email to aticha.roj@tat.or.th.
Boat Tour
Boats are available in front of Wat Ban Laem. Visitors can cruise the Mae Klong River or visit the King Rama II Memorial Park and Damnoen Saduak floating market. The Mae Klong Travel Company (tel: 03-471-3053 and 01-916-3494 operates boat tours to places mentioned above and also to other attractions.