Walk towards enlightenment
By KEE HUA CHEE, The Star, January 20, 2007
Hong Kong is synonymous with shameless materialism. Yet, less than an hour away, on Lantau Island, is simplicity and calm.
Hong Kong, China -- BUILT atop the highest terrain on Lantau Island, the Giant Buddha is only 13 years old but already it's a place of pilgrimage. Legends surround the world's tallest seated outdoor bronze Buddha.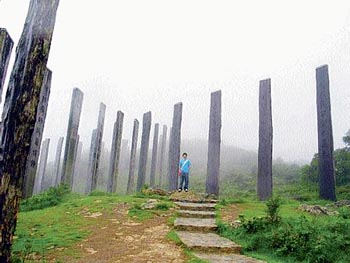 << Reflection: The wooden pillars of Wisdom Walk.
According to one story, Japan agreed to sponsor the entire cost of building the statue, provided it looked towards Tokyo. Beijing, upon hearing the news, put a stop to the nonsense, and this led to the Buddha now peering towards Beijing!
All large statues of the Buddha on mainland China face the South China Sea – except Hong Kong's Giant Buddha. As for the cost, it was all of HK$1!
Reportedly, the Chinese construction firm that built the statue sold it to the Po Lin Monastery, which has been on Lantau for 82 years, for the token sum.
The project started in 1983 when Hong Kong was a British colony, and it was inaugurated 10 years later by monks from a dozen countries. Its official name is Tian Tan (Big Buddha), and its massive lotus base is modelled after the sacrificial platform of Beijing's Temple of Heaven (Tian).
The statue is actually made of 202 huge bronze plates skillfully welded together to create a seamless appearance. The application of pure 24K gold on the face imparts a golden glow that seems completely natural, especially when the sun casts its rays at dawn and dusk.
Seated on the lotus throne atop a three-tiered altar, the Giant Buddha has a serene expression, bestowing peace and pleasure to all. On a clear day, it can even be seen from Macau.
His right hand is raised to deliver blessings and remove obstacles to all believers. The left hand rests on the thigh with palm outwards, fingers pointing slightly downwards to signify compassion to mankind. In front are six larger than life statues of Buddhist angels.
Apart from Big Buddha, devotees also come to worship a tiny little item the size of a grain of rice said to be a relic from the neck of Gautama Buddha. Reportedly 2,500 years old, the relic was brought to Hong Kong in October 1992 by the monastery's abbot, the Venerable Chi Wai.
"From Sri Lanka, I brought back the relic of Sakyamuni," said the abbot.
"At the airport, I had to open the case to the airport authorities and the waiting media. Everyone saw it was white. When I installed it in Big Buddha, it was yellow. Now it has turned red, a most auspicious colour!"
The Po Lin Monastery, built in 1924 by three Zen masters, is a Buddhist retreat of international repute. Its library boasts many religious texts and treasured scripts, while the main temple contains a white jade Buddha.
Many come to pray and enjoy the monk's vegetarian lunch.
Wisdom walk
Wisdom Walk is an open-air ode to the Buddhist prayer, the Heart Sutra, which espouses the so-called Middle Path.
Consisting of only 260 characters, the Heart Sutra here is engraved in exquisite Chinese calligraphy on 38 gigantic, timber blocks arranged into the number "8" against a hillock, so the columns appear to slowly rise as you go nearer.
Each of the 8m-10m wooden pillar is also engraved with timeless advice, except for the one at the highest point. This pillar is left blank to represent its key theme of nirvana, a form of emptiness and bliss.
Many come here even though they have no interest in calligraphy or Buddhism, just to enjoy the bracing air and spectacular setting.
Calligraphy, topography
Wisdom Walk is the brainchild of scholar and calligrapher Prof Jao Tsung-I, who visited Mt Tai Shan in China 1980 and saw the Heart Sutra carved onto a rock face. There he had a vision of pillars containing the scripture.
He decided on wood because it is long lasting but will not last an eternity, thus reflecting the impermanence of nature.
In 2002, Prof Jao completed the 260-character calligraphy, which he dedicated to the people of Hong Kong. Installation took six months and was completed in 2004. A trio of skilled craftsmen painstakingly replicated Prof Jao's masterpiece onto the 38 tree trunks, each spliced into a pair.
It may not be instantly obvious that the pillars form an "8" or infinity symbol, but if you stand on a conveniently placed rock at the base of the formation, you can discern it. The Heart Sutra is revered by Buddhists, as the chanting and reciting of these 260 characters is said to be able to help eliminate mental obstructions and create spiritual peace.
Nature, Buddhism and art – this is what Wisdom Walk encompasses. Breath deeply, relax, let all negative thoughts flow away and empty your mind of earthly desires; who knows, your personal enlightenment may be on its way.