Inside the Kumbum monastery
BY MICHAEL A. LEV, Chicago Tribune, December 9, 2004
HUANGZHONG, China -- A monk is talking on his cell phone. A monk is driving his car. A monk is playing violent video games at an Internet cafe. A monk is discussing Chinese politics, describing the heartache of living under communist domination.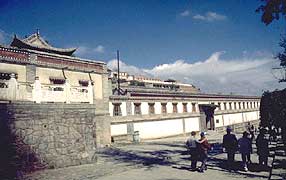 It is because of this last monk's views some of the people I meet on this trip to the Tibetan plateau of China cannot be identified.
For the 700 monks of Kumbum monastery, an important center of Tibetan Buddhism, day-to-day life has more than its share of contradictions and compromises.
It is an uneasy blend of the sacrosanct, the modern and the objectionable.
The monks in crimson robes rise early in their courtyard rooms to study Tibetan scripture. They read and pray as they always have.
What is strange for the monks is how they must keep tabs on the Chinese workers and tourists who roam Kumbum. Some of the Chinese are undercover agents of the government security apparatus, on the lookout for disloyal, politically minded monks who might try to challenge Beijing's control of Tibet and religious life in China.
There have been times when the government has worked overtime to assert its control over this monastery. In 2001, the last time I visited Kumbum, the monks were being forced to sit through weekly political indoctrination sessions designed to nip any thoughts of anti-Chinese actions.
This was in apparent retaliation for a remarkable episode in the conflict between Buddhists and the Chinese government.
In 1998, Kumbum's abbot, Arjia Rinpoche, fled to California in protest of the government's hijacking of the ceremonies to name a new panchen lama, Tibetan Buddhism's second-highest position.
A few years earlier, the Dalai Lama, per tradition, had identified the reincarnate of the panchen lama, naming a small boy born in Tibet. But the government intervened, placing the boy under house arrest, where he is thought to remain. A new boy panchen lama was designated by the government, which whisked him to Beijing, where he is growing up in seclusion, under the direct control and tutelage of the Communist Party.
When he is grown, the boy undoubtedly will speak out against the Dalai Lama, whom the Chinese government sees not as a spiritual leader but as a political rebel. More significant, it will be this panchen lama who will identify the reincarnate of the Dalai Lama, putting Beijing in a position to dominate Tibetan Buddhism and end the controversy over Tibet's status.
The boy recently was quoted by the official Xinhua news agency as praising the communist government for being "good" for Tibet's development.
The controversy has cooled somewhat at Kumbum and there are no longer weekly political-study requirements. But on occasion the monks are brought together, or some of the higher-ranking monks are sent to Beijing for government re-indoctrination. The monks put up with it: "We kill the time and it's done," said one.
The monk, whom I met in 2001, snaps his fingers nervously against his thigh but agrees to continue talking. There is something else that troubles him.
After so many years in quiet conflict with the government, the monk fears that monastery life is under a new kind of attack by the modern world's influence. The temptations of secular life are competing for the monks' attention, and threatening their way of life.
A monk can accept a car as a gift. The Internet is available. "Monks who don't have cell phones, crave cell phones," says the monk.
Worse, the younger monks no longer seem compelled to listen to their elders. "They will argue with us, or tell us they don't want to do chores." And if they get bored with monastic life, or feel tempted by the outside world, they quit.
This can be blamed on both the changes sweeping through China and on the government. Under the guise of "freedom of religion," it is easier for monks to leave Kumbum today than in the old days, the monk said.
But the temptations also are greater.
By tradition, monks are scholars who live apart from society, and they are celebate, but they are not cloistered. They interact with the outside world and they travel. In traditional Tibetan society, they ran the government.
At one point in their lives, many monks choose to isolate themselves for a period of time_to go on tsom, or retreat, in which they hide behind closed doors for as long as three years. But otherwise, they travel and communicate freely with outsiders.
Since there are no Buddhist proscriptions on modern activities, it is up to each monk to find his own way.
"Buddha never said that monks can't use cell phones," said Tsering Gyurme. This was a monk making a joke. He lives at the remote Surmang monastery in the Tibetan mountains for half the year; the rest of the time he teaches in Boulder, Colo.
It is difficult to say how worried the monks are with the 21st Century's intrusions. They are not in the business of social and political analysis. But the threat is clear: The monks and monasteries do not dominate life in the cities anymore. The Chinese government is encouraging ethnic Chinese to move to Tibetan areas, both to help develop the economy and to dilute the power of Tibetan Buddhist culture. This has led to an ongoing assimilation struggle between the Chinese and Tibetan forces.
But there is plenty of Tibetan culture left. On the days I was in Yushu, a heavily Tibetan town of 70,000, the city was filled with monks who were on a pilgrimage to the local monastery to see an important visiting Lama from India.
An abbot in Yushu took the middle ground. Yes, it is harder to concentrate as a monk with the world at your doorstep, but some modern conveniences are welcome. A motorcycle, he said, is a good replacement for a horse, because it is not a precious living creature who suffers when ridden too hard. "Monks can use the Internet to study and debate scripture," he added.
And anyway, the whole process of cultivating and protecting piousness is good for the soul. "You should experience a little pain and loss in your life," he said.
But what about monks playing video games? These were religious acolytes who took vows to protect all living creatures that I saw in an Internet cafe vicariously gunning down enemies with AK-47s, and role-playing as a female motorcycle driver in a tight leather jumpsuit mowing down pedestrians.
"If it was a young monk, experimenting with the outside world, that's OK," the abbot said. "If it was an older monk, in his 20s, who has been educated, then he was doing something bad."