Tales from a Himalyan hill station
by Stephen McClarence, The Times, August 11, 2007
Kalimpong, West Bengal (India) -- High on a hotel terrace in Darjeeling, an alarming noise pierced the Himalayan mists. One moment it sounded like a braying donkey, the next like a crow being strangled. Was it an animal? A bird? "No, no, sir," said the hotel receptionist. "It is Doctor Sprigg of Kalimpong, tuning up his bagpipes."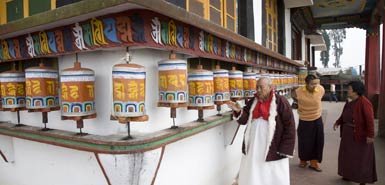 That afternoon, my wife, Clare, and I took a two-hour taxi ride down corkscrew roads to find this unexpected musician. "Reach in peace, not in pieces," urged safe-driving signs.
"Road is hilly. Don't be silly."
We knocked on the door of an isolated guesthouse and a man in his mid-seventies opened it: Dr Keith Sprigg, from Melton Mowbray, a Tibetologist retired from London University and a Kalimpong resident for 20 years. He had a bristling Elgarian moustache and was wearing his old Cambridge University blazer and Oakham School tie.
He had, it transpired, led expeditions into Nepal and was the last Westerner out of Tibet before the Chinese invasion. "I remember one expedition where we had 30 porters," he said. "Two of them carried the hundredweight of coins that we had brought with us to pay the other 28."
He poured brandies for us and a Cinzano for himself, reminisced about Darjeeling's last British tea planter and the coronation of the King of Sikkim, and finally waved us off in the taxi.
That meeting – the first of many –was ten years ago, but its eccentricity is still par for the course in Kalimpong, an easygoing, endearingly ramshackle former British hill station about 1,200m (4,000ft) up in the mountains in the top right-hand corner of India.
On our most recent visit this year, as a break from the urgent bustle of Darjeeling, we found goats still wandering its main street. Boys played cricket with upturned chicken baskets for wickets. The shops were full of Buddhist prayer flags and Tibetan jewellery, reflecting the town's fascinating position at the cultural and commercial crossroads of Nepal, Bhutan and Sikkim.
For all its Cotswoldy Victorian church, it feels exotic, in a homely sort of way, and now that Dr Sprigg and his wife Elizabeth have decamped to Sussex (more of this later), there are three main reasons for visiting: the Buddhist monasteries, the walks, and the Himalayan Hotel, an oasis from the clatter and clutter of the town.
The Himalayan looks like a manse in the Scottish Highlands. It has a quiet, old-fashioned charm and is surrounded by pots of pink and white petunias, bamboo groves and banks of scarlet poinsettias. Bulbuls, the most tuneful of Indian birds, burble in the trees, and at night distant dogs bark and cocks crow across the valley.
The hotel's two modern blocks are cosy and comfortable, but its foursquare old block, with its oak ceilings and teak pillars, is the place for character. The bedrooms have log fires and pictures of doughty Tibetan yaks and even doughtier Tibetan women. At night, the watchman brings scalding hot-water bottles full enough to use as footballs. There's porridge, poached eggs and toast and marmalade for breakfast (mulligatawny soup, roast chicken and rice pudding, as well as Indian food, for dinner).
And there's "bed tea", brought to the bedroom before breakfast. On our first morning, we wrap ourselves in shawls and take our tray out on to the broad veranda, where we watch the sun's first rays pick out the pale blue peaks of Kanchenjunga, the world's third-highest mountain. Suddenly the clouds part and it rears like a dazzling iceberg: 50 miles away, but unimaginably vast.
We share breakfast with three brothers from Sikkim who have been stuck at home for a week behind shoulder-high snow. "Very good poached eggs," says one.
Over the years, the Himalayan's guests have included the conquerors of Everest, Hillary and Tenzing; Peter Ustinov; Richard Gere; and, most memorably, Princess Nina of Georgia, who entertained local youths by standing naked at her bedroom window with her pet parrot, trained to imitate the bells of mule trains bound for Tibet.
Those were the great days of Kalimpong trekking, when guidebooks gave specific clothing advice to gentlemen: "1 pair puttees . . . 1 pair jodhpurs . . . 1 topee . . . 1 pair grey flannel trousers . . . 1 dressing gown." Bear in mind, one book added, that "for rough work, such as carrying bath water, and so forth, the tiffin coolie may be used" and that "muleteers and coolies are, though dirty, and, as a rule, when wet, odiferous, an interesting crowd".
Some of the old frontier-town atmosphere still lingers at the Wednesday market, where farmers from surrounding hill tribes sell pyramids of cauliflowers, lemons and root ginger, posters of Hindu gods, live chickens, incense sticks, sacks of grain and bright red chillis.
But the town has moved on during the past ten years. The market also sells travel clocks and fake designer trainers. The bazaars boast a mobile phone repair shop, Bob's CD Parlour and Playnet World, one of a dozen cyber-cafés where saffron-robed monks surf the net and plug into chat-lines, their mobiles slung from their prayer beads.
Better, perhaps, to take a taxi to see the golden Buddhas at the Tharpa Choling Monastery, where, in a dungeon-dark, smoke-filled kitchen, we find an old man chopping spinach to make soup for the monks ("47 monks," he volunteers, helpfully).
Across town, up the Upper Cart Road, clouds swirl around us at the hilltop Zong Dog Monastery. Hundreds of butter lamps flicker, venerable men with ponytails turn creaking prayer wheels, wind chimes play, a gong tolls in the mist. A few chanting monks and it could be Lost Horizon.
We walk back into town along a lane straddling a high, narrow ridge. With its half-timbered bungalows and its kitchen gardens of dahlias and geraniums, it suggests suburban England. Or, at any rate, suburban England with pumpkins drying on corrugated tin roofs and prayer flags fluttering from high bamboo poles.
The last vestige of England here was really Dr Sprigg, who always piped Auld Lang Syne on New Year's Eve. He and his late first wife, Ray, lived in one guesthouse room, its shelves piled high with orange-backed 1940s Penguins, Rider Haggard, Stanley Gibbons stamp catalogues and the doctor's own 730-page Phonology of the Grammatical Constituents of Verbal Phrase Words in Spoken Tibetan.
The couple had married in Melton Mowbray. "A Tibetan lama I knew turned up at the wedding with ceremonial scarves," he recalled. "He quite eclipsed us. It was all over the Stamford Mercury."
Need to know
Stephen McClarence visited Kalimpong with Western & Oriental Travel (0870 4990677, www.westernoriental.com), whose 15-day Journey through the Himalayas includes two nights at the Himalayan Hotel and visits to Calcutta, Darjeeling and Sikkim. It costs from £2,136pp, based on two people sharing, including international flights and most meals.
Jet Airways (0808 1011199, www.jetairways.com) flies from Heathrow to Delhi from about £408. It also flies from Delhi to Bagdogra, the nearest airport to Kalimpong, for about £154. The Himalayan Hotel (00 91 3552 255248, www.himalayanhotel.biz) has doubles for £32 (room only).
Guidebooks:
Rough Guide to India (£16.99).