Kingdom in the clouds
by Susan Gough, Toronto Star, Aug 15, 2007
PARO, BHUTAN -- The tiny landlocked kingdom of Bhutan has managed a spectacular promotional feat. First, the Fourth King announced he measures his country's progress in terms of Gross National Happiness. Then he essentially limited the number of visitors by charging a minimum of $200 a day for accommodation, food, driver and guide.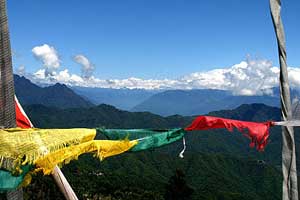 << SUSAN GOUGH HENLEY PHOTOS
Prayer flags flutter in the mountain breeze of the Buddhist kingdom of Bhutan. Nestled high in the Himalayas between China and India, the nation has only recently opened to tourism.
It's the old create-a-buzz and make-yourself-scarce routine, but it's not all hype.
"Bhutan has never been colonized so it has been able to maintain its proud, traditional culture that values the community above the individual. And, the Fourth King provided decades of wise leadership to navigate a unique path for the only surviving independent Buddhist country in the Himalayas," says John Reed, general manager of Aman, the first international hotel company to develop properties in Bhutan.
Television and the Internet, for instance, were not introduced until 1999. Cigarette sales are banned. And the monarchy is working toward the country's first constitution and democratic elections next year.
Clean energy is provided by hydroelectric power and, by decree, 62 per cent of the land must remain forested. Environmentalists describe Bhutan, which is about the size of Nova Scotia, as one of the world's biodiversity hot spots. It is easy to see why when scholars like Tshering Phuntsho at the Centre for Bhutan Studies, the national think tank, says, "In Bhutan we place a value on a tiger in the forest."
The country is home to some of the Himalayas' most exotic animals including the endangered snow leopard and red panda, plus 770 species of birds and an astonishing variety of rhododendrons.
Six of us recently visited the Land of the Thunder Dragon on one of Druk Air's four planes. On the jaw-dropping descent into Paro, the country's only airport with a paved runway, we glimpse the Tiger's Nest Monastery, Bhutan's most revered site, impossibly wedged into a nook of sheer granite cliffs. Legend says Guru Rinpoche, the Tantric master who established Buddhism in Bhutan, rode a winged tigress over the mountains to meditate here before converting the local spirits.
Waiting for us at the terminal is Lha Wang, or Thunderbolt of Bliss, our smiling, diminutive 24-year-old guide dressed in the traditional gho, a belted, white-cuffed, knee-length robe worn with long socks.
"I am most honoured to show you my beautiful country," he bows.
A single main road crosses dramatic mountain ridges, strung with prayer flags, and valleys splashed with golden wheat fields and viridian rice paddies.
Our driver combines the bravado of a New York City cabbie and the nerve of a rally car driver as he negotiates blind corners and logging trucks decked out like parade floats. Painted phalluses adorn many of the elaborate two-storey rammed-earth farmhouses as fertility symbols and guardians against evil spirits.
With tantric Buddhism as its official religion, sexuality is seen as a means toward enlightenment.
The nation's capital, Thimphu, is a haphazard boom town under a frenzy of construction in preparation for the Fifth King's coronation next June. The only capital city in the world without a traffic light, a white-gloved warden choreographs wheeled vehicles with balletic gestures. We watch street theatre, admire intricately embroidered and woven cloth at the Textile Museum, and shop for inlaid turquoise jewellery and carved wooden masks.
We install ourselves at the 16-room Aman Thimphu, a white temple of understated elegance in the pine-forested hills above town.
"People no longer want to just plop on a beach but travel to experience distinctive cultures," manager John Reed says. "The Amankora adventure tries to capture the spirituality of Bhutan."
The four Aman properties – in Paro, Thimphu, Gangtey and Punakha – have a minimalist aesthetic, with the all-important addition of spas. Each spacious room, panelled in the local blond wood, is warmed by a traditional hot-stone wood stove while the intimate muted-toned public areas encourage guests to look outward in their quest for the exotic.
We visit the temple of Bhutan's beloved 15th century lama, nicknamed the Divine Madman, who overcame demons with his phallus and preached a joyful version of religion.
We watch initiates, dressed in robes of gold and crimson, chanting the sutra in the temple under the guidance of large golden Buddhas peering down from the altar, bowls of local moonshine lined up as offerings and, discretely to one side, a symbolic phallus, in case a visitor needs a fertility blessing.
We explore Bhutan's most majestic monastery/fortress in Punakha. In its sun-drenched courtyard a lone cock, saved from the gallows, struts like a king.
Outside the golden doors of the central temple, Thunderbolt of Bliss sums up the Buddhist philosophy of the circle of life, "If you are greedy and tight-fisted you will be reborn as a hungry ghost, never able to feed your soul."
Wise words from a young man who begged us to save the life of a tick we had extricated from a friendly dog.
The three-day Gangtey Walk starts in the Phobjikha Valley, the largest glacial valley in Bhutan and winter resting ground for the endangered black-necked cranes. Hardy mountain ponies carry tents, tables and chairs, pads, sleeping bags and packs. We climb a rocky path into an enchanted forest of oak and maple, lichen-draped blue pines and massive moss-covered weeping cypresses. Our way is strewn with the crimson blossoms of rhododendron trees, ten metres high.
The days pass in a feast of the senses. Wild daphne perfumes the air; a cuckoo heralds the time to plant the summer crops; our cook collects fiddlehead ferns and wild spinach; in the half light of a remote monastery we discover exquisite murals; we picnic on a 3,400-metre pass adorned with prayer flags and in the lush subtropical valley of our final descent we find groves of wild cannabis that are fed to the pigs to make them hungry and happy.
Each night we sing around the campfire, the Bhutanese teaching us haunting love songs with words like, "Write my name on your heart so that it will remain forever."
Visiting a farmhouse that had been hooked up to electricity only two days earlier, we ask the farmers if they are curious about us and they say graciously: "We have no knowledge of anywhere outside of Bhutan, but if you would like to tell us about yourselves, we would be most honoured to listen."
Bhutan may not be perfect but it does offer an exquisite mixture of the sublime, the sybaritic and the surreal that might just make it the world centre of happiness.
JUST THE FACTS
DRUK AIR flies via Bangkok, Delhi, Calcutta, Bodhgaya, Dhaka and Kathmandu.
AMAN (www.amankora.com) can arrange all travel to and within Bhutan, including visas. Spring and fall are the best times to visit.
Aug 16, 2007 04:30 AM
Susan Gough Henly
Special to the STAR
-----------------------------
Susan Gough Henly is a freelance writer based in Victoria, Australia. Her visit was subsidized by Aman.