Pilgrimage to a Buddhist past
by LEKHA J. SHANKAR, The Bangkok Post, Feb 21, 2008
The state of Orissa is home to some of the most stunning sacred architecture in all of India
Orissa, India -- Orissa, a state in northeastern India, is an exotic and exciting secret that's only now being unveiled - thanks to the phenomenal range of Buddhist artefacts that have recently been unearthed there.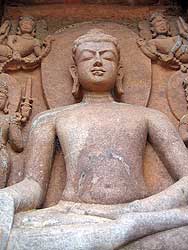 << One of the many striking images of Buddha to be found at Udayagiri.
This was, after all, the place where Emperor Asoka the Great fought the terrible war of Kalinga circa 261 BC, in which thousands died. Later he converted to Buddhism and sent emissaries all over Asia.
To mark this important milestone in his life, he commissioned the so-called Asokan Edict, which still stands in Orissa today. It's at Dhauli, 8kms from the capital, Bhubaneshwar, and attracts many Buddhist pilgrims. With the Dhaulagiri hills all around, and the Daya River flowing in front, this, the earliest known example of rock-cut sculpture in India, is a riveting sight.
Featuring an elephant which seems to be emerging from the monolith of stone, evoking the image of a baby coming forth from the womb, this sculpture became the signature of Asoka, who had similar structures erected wherever he or his envoys travelled. Since that time the elephant has been closely associated with Buddhism.

There's an outstanding range of Buddhist monuments in Orissa and rigorous excavations are still being carried out there by officials from the Archaeological Survey of India, resulting in lots of exciting new finds. We encountered this ourselves when we took a tour of the variously named Buddhist or Diamond Triangle - comprising the towns of Lalitagiri, Ratnagiri and Udayagiri - some 100km from Bhubaneshwar.
The settlements are close to one other and together make for an arresting spectacle of verdant, antique-looking hills dotted with the brick-red ruins of monasteries built from traditional khandolite stone, sculpted stone portals and Buddhist images.
The Buddhist Triangle was first mentioned by the Chinese traveller Huien Tsang, whose writings on ancient India are one of the most important documentary sources we have on this period of history. He says he saw more than 100 monasteries in Lalitagiri, considered the oldest Buddhist spot in Orissa. Surrounded by green fields and undulating hills, the town has many striking monuments to Buddha displayed at an on-site museum. A spectacular discovery was made there in 1985, when a stupa was found to contain a casket with bones thought to belong to the Teacher himself.
Udayagiri, located in a U-shaped valley surrounded by hills, has one of the largest monastery complexes in Orissa and boasts amazing Buddha images, some 61 metres tall. It is best known as the location of a series of caves, nine metres deep and 1.2m high, which are supposed to have been hollowed out on the orders of the first-known ruler of Orissa, King Kharavela. The interiors contain many inscriptions lauding that monarch's military exploits and referring to various cultural and social pursuits of the day.
We make our way through a scenic rural landscape, passing by the pretty Kelu River, to reach Ratnagiri, the town with the most spectacular Buddhist monuments. We walk up a hill, studded with blocks of ancient laterite, where archaeological digs are underway. Here, every stone tells a tale - or would, if only we could decipher all the inscriptions; international scholars have been invited to come and study them. Our guide points out one which apparently records the fact that Emperor Asoka once came here to pray.
We feast our eyes on a huge Buddhist stupa and tour an immense quadrangle of monasteries with exquisitely carved doors, pillars and corridors; there's even a head of Maitreya, the future Buddha.
We feel part of a rare and sanctified scenario as we imbibe the stunning atmospherics of the area. Freshly unearthed Buddhist images are scattered all around and we are told that it will take at least another five years to complete the excavation work. Each of the nine hills in the background boasts a stupa. On one an elephant has been hewed from a single massive piece of stone.
More excitement awaits us in the four galleries of the site museum: colossal Buddha statues in many poses - Avalokeswara, Manjusri, Tara - as well as a host of terracotta objects, copper plaques and rich bronzes.
HRH Princess Maha Chakri Sirindhorn once paid a visit to this and other Buddhist sites in Orissa but the area has not yet been developed to cater for mass tourism. Apart from roadside stalls, places to eat are few and far between, so it'd be sensible to bring a packed lunch with you if you decide to visit this trio of towns. Most of the highlights can be covered during a day trip from the state capital. The drive from Bhubaneshwar is picturesque, taking you past rice fields, date-palm plantations and groves of mohul flowers. The locals make handia, tati and mahul, unique liquors that are proving very popular with the tourists.
The other must-see "triangle" in Orissa is formed by the cities of Puri, Konarak and Bhubaneshwar. The latter name translates as "abode of God", a reference to the fact that it once was home to some 7,000 temples, of which about 500 remain in operation to this day. Many do not admit non-Hindus, but their architectural magnificence can be seen and admired from outside. In fact, from an elevated piece of ground nearby we were able to watch some religious ritual being conducted within the temple of Lingaraja.
Holy sites notwithstanding, Bhubaneshwar is also a modern urban metropolis with an IT district, new hotels and convention centres and many industrial projects underway.
The next day, we decide to drive to Konarak, an historic settlement on the banks of a river of the same name. The main draw here is a stunning, 13th-century temple dedicated to the sun god. Considered the pinnacle of Oriyan architecture, and open to people of all religions, it is built in the shape of a giant chariot. Representing the vehicle of the deity, the building rests on 24 intricately carved wheels (representing the hours in a day) and is "pulled" by seven horses (signifying the days of the week). It took 12 years and 1,200 workers to create this masterpiece using blocks of laterite transported from a quarry 300km distant. Its "dancing hall" boasts some outstanding images of women, some highly erotic, amid depictions of the social life of the era.
Every December, the temple hosts the Konarak Dance Festival, attracting some of the country's best performers and many tourists from around the world.
The last destination on our itinerary is the beach resort of Puri, 30km from Konarak. A sumptuous lunch puts us in high spirits as we make a stop en route at the hamlet of Raghurampur, regarded as the heart of Orissa's arts and crafts industry and designated a "rural-cultural village" by India's Ministry of Tourism. Here, one can tour the homes of artists, watch them creating delicate patta work and then buy some of their paintings at reasonable rates. The residents give us a big welcome and offer us masala chai; their kids dance for us and we are truly made to feel at home.
Later we arrive in Puri, known for its beaches, of course, but also for a temple dedicated to Lord Jagannath, a deity which holds a very special place in the hearts of the people of Orissa. During the Jagannath Festival, held every December, grand floats bearing representations of the god are carried in ceremonial processions, accompanied by musicians, dancers and revellers from home and abroad.
While Orissa offers a multi-flavoured platter of delights to suit many different tastes, the biggest surprise for this writer was the astounding range of Buddhist monuments to be found here; they could well become the state's biggest attraction in years to come.
To get to Orissa from Bangkok, fly to either New Delhi or Kolkata and then catch a connecting flight to Bhubaneshwar. For more details, visit orissatourism.gov.in or http://www.incredibleindia.org.