Yungang's treasure
by ZIYING, The Star, March 12, 2008
Shanxi's Yungang grottoes are renowned for some of the finest Buddhist carvings in China
Shanxi, China -- WHENEVER China's coal-rich Shanxi province is in the news, it is usually for the wrong reasons. Grim images of the darkened skies and soot-covered streets of Linfen, a coal-mining centre in the southern part of the province, have been featured repeatedly in various international media.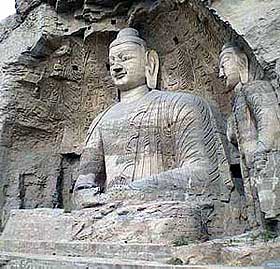 << The Lutian Buddha is symbolic of Yungang.
The city is notorious for being China's most polluted and has become symbolic of the ills afflicting the country's environment. Collapsing illegal mines and deaths of miners in pitiful working conditions are also reported with disturbing frequency. And to add insult to injury, Shanxi is sometimes confused with its more well-known western neighbour, Shaanxi, home of the Terracotta Warriors.
With such a barrage of negative reports and the dismal images of poverty and environmental and human degradation, it is easy to overlook the fact that Shanxi is home to some of China's most fabulous architecture and sculpture; and would you believe it, blue autumn skies and days so clear you can see as far as your eyes will take you.
What I wanted to visit most of all in Shanxi was Yungang which, together with Longmen in Luoyang and Mogao (Dunhuang) in Gansu along the Silk Road, forms a tripartite of China's greatest Buddhist grottoes.
Yungang is just a few kilometres west of Datong, a 2,200-year-old Han dynasty city near Shanxi's border with the province of Inner Mongolia, about 20km south of the Great Wall. Our "express" train took six hours to cover the 300km from Beijing to the industrial city, passing through an arid countryside hilly in places, with large stretches of brown cornfields, until finally we arrived at Datong's grey, drafty and very cold train station.
At first sight, Yungang seems less impressive than Longmen which is situated on Luoyang's Yi River and from which one gets spectacular views of its colossal Buddhist statues. A small portion of Yungang's kilometre-long stretch of caves, which house over 50,000 carvings, is protected by graceful multi-storey Chinese-style structures built into the cliffs and roofed with grey or blue tiles. Beyond this section, however, is an absolutely stunning expanse of exposed grottoes and niches fronted with soaring stone columns some 8m or 10m high.
Yungang's caves are ornately carved, and coloured in a style reminiscent of the intricately painted frescoes of Mogao. And fortunately, unlike at Longmen where the sculptures bear the scars of the Cultural Revolution, or have been looted by Western and Japanese treasure hunters, Yungang seems to have been spared the worst of the larceny and destruction.
The energy that went into the creation of the tightly-packed buddhas, boddhisatvas, disciples and flying apsaras in Yungang's caverns is palpable, and the figures' gestures as well as their twisting, rounded contours appear more Central Asian than Central Plains.
This is evidently a legacy of the grottoes' history as work on them started some 1,550 years ago under the auspices of the nomadic Tuoba clan who made Datong their capital when they swept into north China. A few decades later, they moved to Luoyang where they began work on Longmen, adopted the Han culture of the Central Plains and disappeared altogether.
It was at Yungang that I met one of the most beautiful buddhas I have ever seen. Or perhaps it was he who beckoned. For as I strolled past the outdoor niches, I suddenly felt his gaze on me. His eyes were mesmerising, his lips curved in a gentle smile and his face took on a radiant glow in the rays of the autumn sun. Sitting serenely in his niche, he emanated benevolence, his right hand raised in a gesture of blessing and assurance.
Given Shanxi's coal deposits, it comes as no surprise that coal mining is fundamental to Datong's economy. But contrary to expectation, there was little sign of the massive pollution reported in places like Linfen further south.
Datong (population three million) is small by China's standards and retains the ambience of a market town.
Near the Huayan Monastery in the heart of the city, bundles of leeks were propped against the wall to dry, while across the street from what used to be the palace of a Ming dynasty prince, a woman was sorting a pile of platter-sized loafs on a sidewalk. The thick round "loaves" turned out to be seed-filled sunflower pods and she was carefully inserting the loose seeds back into the pods for sale at, she said "Two yuan for the big ones and one yuan for the small."
In the palace grounds, a row of round, football-sized white orbs oozing a viscous dark liquid full of berries and star anise sat on a low table under a tree. The owner said they were pickles and the white orbs were a kind of cabbage.
As for the Ming prince's palace, all that is left of it is a magnificent 45m-long Nine Dragon Screen constructed 600 years ago, the oldest and largest of its kind in the world.