Sikkim: Pristine and unique charm
by Reshmi R Dasgupta, ET Bureau, Jan 15, 2009
Sikkim, India -- Years ago, a friend from the north-east told me rather testily, "Why are you so excited about the cherry blossom festivals in Tokyo and Washington DC?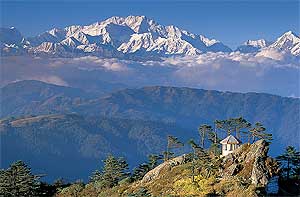 There's a fabulous one every year right here in India and no one knows about it...." He was right, of course, and he was alluding to a state of which few of us in bustling metros know anything: Sikkim.
Last weekend, the Sikkim Festival organised by the state government in association with the Times of India Group in New Delhi's Garden of Five Senses forcibly drew my attention back to that tiny Himalayan state of just five lakh people, which isn't on the mindscape of most Indian travellers, myself included.
What I found there amazed me. Despite being nestled between Nepal, Bhutan and China, Sikkim has such a quintessentially Indian ethos. Yet its temperate slopes and valleys are such a far cry from the madness of much of India that it wouldn't seem inapt to call it India's Shangri-La, florishing under the protective eye of Kanchenjunga.
While Pawan Chamling (like Sheila Dikshit, a third term chief minister!) spoke at the fest of his state's unique expanse of climate zones (from sub tropical to alpine!) and its focus on organic products and sustainable development, the dancers from different ethnic groups seemed to underline Sikkim's multifaceted appeal....
But I couldn't take my eyes off the thousands of orchids flown in from there for the fest. "That's not all," I was later told enthusiastically by Radhika Jha, a young Sikkim cadre IAS officer. "You should see the rhododendrons in bloom in spring. Entire hillsides are red or pink!"
That tidbit, along with a bit of delving that revealed that Sikkim has 600 species of orchids, 240 indigenous trees and ferns, not to mention magnolias, anthurium and gladioli, made me heartily endorse Mr Chamling's assertion that Sikkim has more allure than Switzerland — not to mention Holland, France and other floral hotspots!
But Sikkim, for me, scored far higher than any of those European tourist havens on another major count — its spiritual quotient. Not only as the land blessed by Padmasambhava in the 8th century and home to ancient and venerated Buddhist centres like Rumtek monastery, but also for its more recent gesture of building Hinduism's Char Dhams in one complex in South Sikkim. Maybe it's just reiterating its traditional name: Nyemae-el or Abode of the Gods.
On a more temporal plane, Sikkim's cuisine, I learnt, was an interesting mix of familiar and unfamiliar flavours — from buckwheat and fermented soybean to pork and yakmeat, not to mention bambooshoots and the paneer-like chhurpi! I could quite believe the state's tourism secretary SBS Bhadauria's assertion that every village has distinct dishes to offer.
But it was the very pretty young doctor dressed in a traditional maroon and creme baku ensemble who really set me thinking about Sikkim. Why was Karma Bhutia, an MBBS from Delhi's Lady Hardinge Medical College and practising in Gangtok, manning a food stall? "I stopped in Delhi on the way to Himachal with my mother and aunt," she said. "I saw a Sikkim fest on and decided to help out — why miss a chance to tell other Indians about my state?"
She knew enough about another nook of her native Himalayas like Himachal, but here I was, a gaunche city-dwelling 'mainlander' who knew next to nothing about a fellow Indian's amazing home state. That reminded me of what a young Arunachali politician once told me: "A northeasterner knows more about the rest of India than the rest of India knows about the northeast." It's time the rest of India — me included — remedied that. And Sikkim seems one of the best places to start that journey of discovery...