Rugged terrain, gentle people in Ladakh, India
By David Desjardins, The Boston Globe, Feb 22, 2009
Slowing down in Ladakh, India

Ladakh, India -- The arid, rocky trails through the Himalayas of India's Ladakh region throw a lot at trekkers, but this was just a stream ó fast-moving, surely, but only 5 feet across.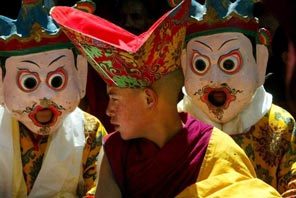 << A monk is surrounded by dancers at the Hemis Buddhist monastery near Leh, in the Ladakh region of India. Ladakh is the meeting place of two mountain ranges and of two cultures, Buddhist and Muslim.
ELIZABETH DALZIEL / AP
Still, our small group ó my wife, 12-year-old son, and I, our Honduran friend, even our Ladakhi guide ó stared at it dumbly, momentarily at a loss as to how to cross.
Not so Yangchan Lamo. She had fallen in with us earlier that afternoon as we made our way toward the remote village of Markha, our destination for the day. She was 56, and had been walking for days, with only a small pack to carry her provisions. Though she didn't speak English and our Ladakhi was severely limited, she seemed to enjoy our company and watched over us even more carefully than our guide, at one point rushing forward to free my wife's jacket from a thorny vine. Now, Lamo scooted past our befuddled group, lifted a heavy boulder, and heaved it into the stream, creating just the steppingstone we needed.
Of all Ladakh's impressive features ó its soaring peaks, desert terrain, and daunting elevation ó none captures the region more completely than its people. Hardy but gentle, they don't just survive but thrive in this challenging environment, wresting from it both sustenance and joy. There is no better way to experience Ladakh ó to engage both its people and its geography ó than to trek through it.
Two cultures meet
A high desert plateau pitched between the autonomous Chinese region of Tibet to the east and Pakistan to the west, Ladakh ("Land of High Passes") is part of India, but has more in common with its neighbors. It is the meeting place of two mountain ranges ó the Karakoram and the Himalaya ó and of two cultures, Buddhist and Muslim. For centuries, it was an important stop along the ancient Silk Road, but today political tensions to the east and west ensure that most visitors to Ladakh approach it from the south.
Surrounded by mountains, Ladakh was for centuries inaccessible for much of the year, its high passes choked with snow from October through May, often longer. Air travel has changed that, but even today flights are frequently canceled because of bad weather.
The region's high paths and roads are open in July and August. When the throngs arrive, they flock to the town of Leh, Ladakh's ancient capital and the center of its tourist trade.
Nestled along the Indus River valley at an altitude of 11,500 feet, Leh is where visitors catch their breath. The need to acclimatize, and to organize a trek, usually keeps newcomers in Ladakh's biggest town for a few days ó and for most, that's more than enough. Leh's narrow streets and alleys are choked with traffic, shops, and meandering dogs and cattle. Although it had its charms, we were soon eager to strike out for the wide-open country.
For us, that meant a trek to the Markha Valley and back, a journey that begins on the east bank of the Indus, five miles southwest of Leh. The trek, roughly 60 miles long, takes seven to eight days, crossing high passes in the shadow of two 20,000-foot-plus peaks and visiting remote villages in the roadless interior.
We began by driving to our starting point to meet up with the crew who would support us ó read "pamper" ó over the next eight days: our guide, cook, two "pony men," two other helpers and our nine ponies, eight to carry supplies and one reserved for carrying a trekker when necessary. After filling our daypacks with water bottles and spare clothes, we left the ponies and most of the crew as they finished packing. We crossed the Indus River, grayish and turbid with silt runoff, and set off under a blazing sun across the high desert.
We traversed the plain west of the Indus, at times on cliffs above the river, watching whitewater rafters slip-sliding along far below. Eventually we turned toward the dense, serrated mountains to our left, threading our way through the Jingchan Gorge. We came to a welcome staple of the Markha Valley route: the parachute tea tent. These oases ó where you can buy tea and snacks, meet other trekkers and relax in the shade afforded by the recycled parachutes ó are spaced every two miles or so along the trail. We ate our box lunches and cooled off in the stream, fortified for the last two miles of walking to the Jingchan camp.
Slowing down
There we discovered one of the joys of trekking: the prepared camp site. Our tents were set up and so was a small table with tea and snacks, all by our support crew, who had passed us hours earlier on the trail. From the cook's tent came the delicious aroma of the five-course dinner being prepared for us.
So began our journey into the backcountry of Ladakh, where all traffic is foot traffic and life is lived at a slower pace. Our daily routine ó rising, eating, walking, eating, sleeping ó helped us slow down too, and let us experience the rhythms of Ladakhi life. Passing fields, we heard farmers singing as they worked. Atop mountain passes, we paused as our guides strung up prayer flags and lighted incense. Descending, we picked our way through herds of grazing sheep and dzos, the Ladakhis' hybrid of yak and domesticated cow. Visiting a town's temple, we turned the prayer wheels that lined its walls and rested in the presence of centuries-old Buddhist sculptures, gilded in riotous colors that contrasted with the gray-brown terrain outside.
The landscape we walked through was a slide show of wild, tortured peaks and ravines, mostly tan and gray, interrupted occasionally by purple funneled hoodoos and reddish slashes raked into the hillside. Glaciers sprawled below snowcapped mountains, feeding streams that carved the deep gorges we hiked through.
As our journey progressed, we saw how the region's most precious resource ó water ó has shaped not only Ladakh's landscape but also its culture. Ladakh gets only 6 inches of rainfall a year, so glacial runoff provides most of its water. The streams that carry it are tended carefully and continually, diverted one way in the morning to irrigate one farmer's land, and another in the afternoon to water his neighbor's. Each subdivision of a stream is the result of villagers' working in harmony to share this scarce commodity.
On the last day of our trek, after we had descended 4,700 feet from the Kongmaru La pass to our camp at Shang Sumdo, that harmony seemed to linger. Far off across the ravine, the first car we had seen in a week bumped along a dirt road. Soon, one like it would come and take us back to Leh. But for the moment we rested, a hard journey complete and the slow, measured pace of a world beyond the mountains still only a step behind us.
Getting there
Leh, the main town of Ladakh, is 380 miles northeast of New Delhi. There are daily flights from New Delhi.
Where to stay
The Jigmet Guest House is close to the town's main bazaar, which is dense with restaurants and trekking agencies. It has comfortable rooms in two buildings that surround a lovely garden, $24.60 per person per night, breakfast included. Upper Tukcha Road, Leh. E-mail: jigmetguesthouse@yahoo.com
Tours
Sea & Sky Travel in New Delhi arranges Ladakh tours, www.seaandskytravel.com ï In Leh, Tsewang Dorjey arranges treks and tours. The Markha Valley trek costs $335 per person (minimum group of 4). E-mail: tdorjey2001@yahoo.com
The Seattle-based Crooked Trails offers educational journeys, often with home stays, including to Ladakh. www.crookedtrails.com
It wasn't much of an obstacle, considering all we had tramped through and over the past four days in northern India: dusty desert, precipitous paths and a 15,910-foot mountain pass that had our lungs screaming.