Finding inner peace
by THANIN WEERADET, Bangkok Post, Feb 17, 2005
Bangkok, Thailand -- Practising Vipassana is becoming more popular among professionals eager to improve both their business and personal lives.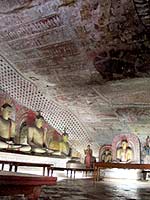 << A temple in Sri Lanka is an attraction many Buddhist travellers dream of visiting.
Vipassana, or meditation, is believed to help train people to take better control of their minds and bring about an improvement in decision making.
Recently, the Vacharatham tour company started to cash in on the trend, with excursions to places of interest related to Buddhism and the Lord Buddha.
Tours to historical and religious sites are obviously nothing new, but the opportunity to see places significant to Buddhism, coupled with the opportunity to practise Vipassana, has proved to be a big hit. Managing director Kohchaporn Lertthamtavee said she has a considerable base of customers who attend her Vipassana courses.
Involved in a clothing export business that ships products to Hong Kong and China, Kohchaporn had a large number of customers in the export sector who represented a high potential in the religious travel sector.
An avid Vipassana practitioner and Vipassana trainer, Kohchaporn is targetting Thais interested in the practice, along with sightseeing trips to places related to Buddhism.
For example, a five-day programme to Shanghai focuses on a visit to Putuosan Island, noted as the home of Kuan Yin.
In addition, other programmes highlight Buddhist-related attractions in India, China, Hong Kong, Myanmar and Korea. India has significant sites related to Lord Buddha. Ko Lantao in Hong Kong has a temple atop the mountain. Indonesia has the Borobodur Buddhist Temple Complex - one of the greatest monuments in the world. Kohchaporn said: "The Shanghai programme has received unprecedented popularity since we started taking bookings in October last year."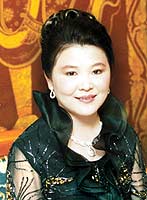 Ms Kohchaporn Lertthamtavee urges people to find >>
inner peace of mind through meditation.
She said that people who come to practise Vipassana at the Vacharatham Home have expressed an interest in visiting places related to Lord Buddha in other countries.
Claiming to use her Vipassana strength to detect illness in other people, Kohchaporn has such a huge crowd of visitors to her Vipassana home that almost every day she is obliged to arrange a schedule, allowing each visitor a 15-minute psychological consultation.
She said she has practised Vipassana for many years and attained a high level of ability in the practice. These days she sees a lot of visitors travelling across the country to seek her psychological help.
Recovering from a personal family crisis after she first got married, she said she survived personal turmoil and business failure thanks to her strong religious faith. With the strong personality of a hard-working business woman, Kohchaporn said profits from running the tour company will go to the formation of a Vacharatham Foundation.
"When I suffered a crisis, I made a prayer that I would make a great contribution to help people if I could stand up on my own feet again," said Kohchaporn whose thriving clothes export business is a testimony to her successful meditation.