Explore Emei Shan, one of the most sacred Buddhist Mountains
by Stephanie Sherrill, China Travel Examiner, August 31, 2009
Emei Shan, China -- Emei Shan is a beautiful weekend escape from city life. It is also considered the Western Sacred Buddhist Mountain and a recognized UNESCO World Heritage Site for both its natural beauty and cultural relevance.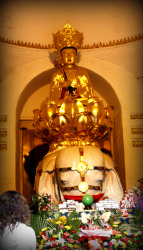 << The Golden Buddha at Wainnain
Temple. Photo by S.Sherrill
Brief history: Originally a Taoist retreat, it became an important Buddhist mountain by the 3rd century. During the Ming and Qing dynasties over 70 monasteries were built along the mountain peaks. Most of the temples are associated with Puxian Buddhism. Puxian focuses on devotion to the Bodhisattva Puxian or Samantabhadra, which the 6-tusked elephant is a symbol.
Trails crisscross the mountain and temples are sprinkled throughout. Hiking is an unforgettable experience of non-stop, endless staircases. Hiking also allows you to experience the quiet, less-traveled sections of the mountain. There are several guesthouses and hotels to stay in at the bottom of the mountain in Baoguo village and even hot springs to enjoy. The hot springs at the bottom of Emei Shan are famous for being the largest outdoors radon hot springs in China and are quite lovely.
You can avoid the grueling hike and take busses to most of the main larger temples and monasteries. In addition, there are a few cable cars. Regardless, you will have to climb some steep stairs even after the cable car and/or bus. An alternative to walking is to pay the locals to carry you on their shoulders in lounger like chairs. The price all depends upon your negotiation skills.
The 30-70 temples (ten of which are large and very old) and four wonders of Mt. Emei Shan can be explored over two days time. These temples are all remarkable in the ways that they have been built to adapt to the mountain and reflect pure Buddhist principles.
The Four Wonders of Emei Shan can best be experienced from the summit, weather permitting.
Buddha's Halo – Rainbow-like rings that surround and move with your shadow especially after a rain or snow.
Sea of Clouds – As you peer off the edge of the summit all you can see are a blanket of clouds below you.
Holy Lamp (Divine Lights) – Visible only at night the cause of these millions of tiny twinkling lights is unknown.
Golden Summit Sunrise – Weather permitting, the sunrise from the mountain is truly breath taking as it quickly jumps from below the horizon.
Cost: RMB120 (RMB60 students) cable cars are RMB30-60
Travel Tips
Emei Shan is located about 2 hours from Chengdu (150km) and less than 1 hour (28 km) from Leshan. Adding a 2- or 3-day outdoor trip to Emei Shan from Chengdu is highly recommended, especially when paired with a visit to the Giant Buddha in Leshan.