Moving majesty
By MARTIN VENGADESAN, The Star, December 6, 2009
History and faith connect and touch those who gather at the temples and cities that are significant to Buddhism
Kuala Lumpur, Malaysia -- Malaysians live in a country where religion and race are often erroneously linked; one tends to think of Buddhism as being synonymous with the Chinese community. However, students of history and/or religion will tell you that the roots of Buddhism lie not in China, but India, where Buddha himself spent most of his life.
Some weeks ago, I was privileged to travel to India to experience the majesty of Buddhism's holy sites. Now this is not a trip for those accustomed to five-star hotels and first-class flights. All the important sites related to Buddha's life are located in relatively under-developed regions of the provinces of Bihar and Uttar Pradesh, while his birthplace is across the border in the lowlands of Nepal.
As the infrastructure between the various cities isn't particularly good, we spent plenty of time that we spent on the road. Nonetheless it was a pretty fascinating journey that I would heartily recommend to all, not just adherents of the Buddhist faith.
I flew from Kuala Lumpur to Bodh Gaya (in Bihar) via Bangkok. There are no direct flights from KL, but Thai Airways plies the Bodh Gaya route regularly during the pilgrimage season (October to March). I had been told that to prepare for cold weather, but when I went, the Indian winter had yet to set in, and most days were quite hot and humid.
Bodh Gaya is arguably the most important site in Buddhism, but first, let's go back to how it all started.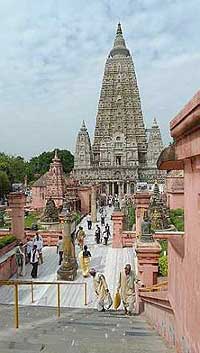 The Mahabodhi temple at Budhgaya in Bihar is popular with pilgrims >>
Buddha was born Prince Siddhartha Gautama in Lumbini, Nepal (approximately 400BCE). He was married and had a child, but in his late twenties he abandoned the worldly life in search of spiritual enlightenment.
Gautama lived a very austere life and after seven years or so of wandering, he arrived in Bodh Gaya where, after intense meditation, he achieved enlightenment while seated under a Bodhi tree.
He then went on to teach the people around him about his discoveries at sites such as Varanasi, Rajgir, Sarbath and Vaishali. He died in Kushinagar, aged about 80.
While revered by most of his followers as a god, Buddha himself did not wish to be worshipped in that way. His teachings were built round the philosophy that humans could alleviate suffering by shedding their desires, and ultimately achieve a state of enlightenment.
Like most popular religions Buddhism was born at a time of political conflict – the kingdom of Gautama's father, Suddhodana, came under attack and fell to the neighbouring kingdom of Kosala during his lifetime. Buddhism had few adherents until the Mauryan emperor, Asoka the Great (273-232 BCE), embraced the philosophical way of life after massive slaughter in a war he waged against the kingdom of Kalinga.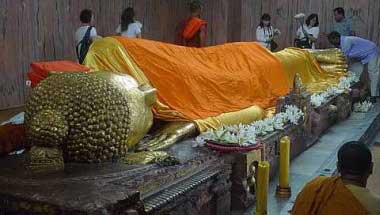 << The reclining Buddha at Kushinagar.
Under Asoka, Buddhism flourished in India and was even "exported" to Sri Lanka and modern-day Pakistan (through which it eventually reached China and beyond, going as far as Japan, Vietnam and even ancient Malaya and Indonesia.)
Ironically, Buddhism gradually declined in India. Despite a brief resurgence under the Gupta kings (circa the third and fourth centuries CE), it was virtually wiped out by waves of Muslim invasions that began in the 10th century.
What is known about Buddha's life and the kingdoms that followed can be credited to the buildings of Asoka, and the writings of China-based monks like Faxian (399-412 CE), Xuanzang (630-646 CE), and I Ching (67-687 CE), all of whom made pilgrimages to India.
Bodh Gaya is one of many Buddhist sites that fell into virtual neglect and disuse. Thanks to Anagarika Dharmapala (1864-1933) a Sri Lankan monk who founded the Maha Bodhi Society of India (MBSI) , the temple and city itself were gradually restored. Today, it is a world heritage site that serves a spiritual home for the many branches of Buddhism that have evolved over the centuries.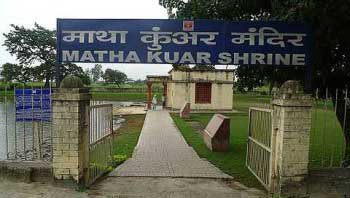 << The Matha Kuar Shrine at Kushinagar where Buddha is believed to have breathed his last.
I was shown around the temple by MBSI deputy general secretary the Venerable P. Seewalee Thera, who explained the significance of the location. Incidentally, the Bohdi tree behind the temple is grown from a branch of the same tree which the Buddha had meditated under. The original tree was destroyed, but a branch from it has been preserved in Sri Lanka!
The site of Buddha's enlightenment is a powerful place, where even a champion of secularism like myself could be moved, if only by its historical signifiance. The many devotees who journeyed to see the Bodhi tree were clearly deeply affected.
Unfortunately, as with most of the sites we visited, the Maha Bodhi temple is surrounded by beggars and peddlars whose persistence can be harrowing. Just as I was thinking of embarking upon a spiritual journey and divesting myself of worldly goods, my digital camera was skilfully removed from my person!
There are many temples to visit in Bodh Gaya as contributions from the governments and people of Tibet, Japan, Burma, Sri Lanka, Thailand and other countries have ensured that what is arguably Buddhism's holiest city remains in tune with its proud history.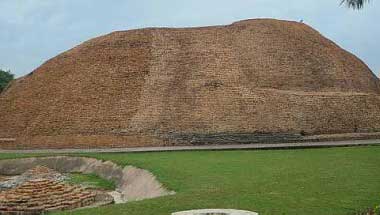 The Mahaparinirvana stupa at Kushinagar >>
Travelling through India's roads is an experience like no other. Most "highways" cut straight through towns instead of bypassing them and the traffic jams can be interminable. Honking appears to be almost compulsory for motorists.
The roads in Bihar and Uttar Pradesh are often lined with abandoned buildings, while cow dung patties on the walls of houses (used for fuel apparently) add to the generally squalid atmosphere. Billboards promoting cellphones, communist symbols or the likes of Amitahb Bachan and Shah Rukh Khan show up in the strangest places.
Our party endured no less than three tyre punctures; one stretch of the roads was closed because village youths were wildly celebrating the festival of the goddess Durga. Our journey was not smooth sailing, but it was undeniably colourful.
We also saw the Sujata Stupa (a large solid mound of bricks) where Buddha was given a meal of milk-rice after a long fast, and Rajgir, the site of Vulture's Peak, where he delivered his second sermon at the behest of King Bimbisara of Magadha.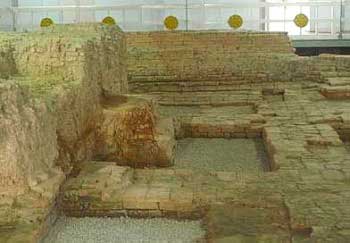 << The grounds of the original palace in Lumbini, Nepal, where Buddha's family lived.
To reach Vulture's Peak, one has to take a chair lift, a rickety, slow-moving swing with a strap on it. Halfway up the hill, you'll find yourself saying a prayer or two!
Another high point of our visit was a trip to Nalanda. The glorious ruins of a once monumental university (closed in 1197 by the invading Muslim Allauddin Khilji) was supported by the Gupta Emperors and certainly reminds one of how prosperous and advanced Buddhist civilisation was for its time.
The city of Kushinagar is home to the Matha Kuar Shrine – where Buddha breathed his last – and the Mahaparinirvana Stupa. The sleeping Buddha inside the Parinirvana Temple attracts many visitors, but I personally was more drawn to the unassuming Matha Kuar Shrine.
Our trip included an unforgettable crossing into Nepal. The border was like a chaotic marketplace, with cows, cyclists and children carrying smuggled goods scurrying away from cane-wielding border guards. There were heavy trucks heading in both directions and bureaucrats aplenty!
The tranquil gardens of Lumbini, where Buddha is believed to have been born, have a familiar Asokan pillar and the ruins of the ancient palace are well-protected.
We stopped at Varanasi to catch the beautiful sunrise on the river Ganges – it was surreal – before taking the direct flight back to Bangkok.
Three years ago I was fortunate enough to visit the ancient sites of Buddhism in Pakistan (Gandhara, under the Buddhist Kushan kings, most notably Kanishka, from the 2nd century CE onwards).
As fascinating as those sights were, the places I visited in India were on a whole different level, historically and, arguably, spiritually. This is a once-in-a-lifetime journey that no open-minded traveller should miss out on.