An eye-opening expedition to Sri Lanka
by LIM CHIA YING, The Star, April 3, 2010
Sri Lanka is the second most important destination for Buddhists after the Gangetic pilgrimage route of north India.
Colombo, Sri Lanka -- Sri Lanka is not just blessed with natural beauty and a rich heritage, but is also a land with a long spiritual history. Every year, thousands of pilgrims make their way here to view and honour the holy relics associated with the Buddha.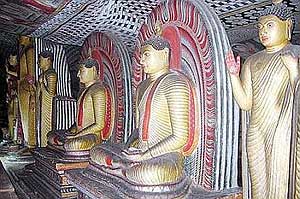 << Buddha statues in the Dambulla Rock temple.
Some have remarked that the beautiful teardrop-shaped island is so holy that it even resembles a bodhi tree leaf (the bhodi being the tree under which the Buddha found enlightenment).
But resemblance or no, Sri Lanka is home to two of the most important reminders of the Great Master — the oldest bodhi tree from a sapling of the original at over 2,500 years old, and what is said to be the Buddha's tooth.
This religious connection was why I joined a group of more than 30 devotees on a pilgrimage to some of Sri Lanka's most ancient cities.
The trip in late February, led by Malaysia's chief Buddhist monk, Venerable K. Sri Dhammaratana Nayaka Maha Tera, coincided with the Navam Perahera, a colourful prayer ceremony held annually in Sri Lanka.
"This is a good way to expose Malaysians to something on a scale not normally seen! And together with visits to other ancient sites and cities throughout this trip, it should be an eye-opener," he said before the trip.
Each morning, before we set out, Dhammaratana would recite prayers for a safe journey. This was on top of the police escort we had for the bus we rode in. As we travelled down the dusty, paved roads, our tour guide said many areas remained under-developed because of three decades of civil war, which only recently ended.
We had our first glimpse of Sigiriya Rock Fortress from afar as our bus approached the site. A massive rock rising 200m out of the surrounding plains, it is said to be part-natural and part man-made, with a plateau measuring 1.5ha. At the summit, the ruins of a palace and its spacious gardens testify to its early history.
It is said that the monks were the first inhabitants of the rock some 2,000 to 3,000 years ago, but they were chased away by King Kasyapa who built his palace here as both a fortress and a pleasure palace.
Following his death, Kasyapa's brother Mogallana is said to have turned the place back into a monastery complex. We were told to hold on to our valuables and be alert as the place teems with all sorts of scam artists purporting to offer guided tours.
It is 835 steps to the top — a daunting climb especially if you have a fear of heights. The soaring temperatures did not help either, and many of us were sun-baked and sweat-drenched by the time we got to the top of the spiral staircase.
Greeting us there was a row of hand-painted female figures decorating a depression on the rock face. The figures, painted in the 5th century AD, are said to represent the apsara or celestial nymphs. Continuing our climb on the other side of the rock, we reached the Lion Staircase where two colossal lion paws are all that remain of what was once a lion-like structure. The rock fortress is also known as Lion's Rock.
This limestone staircase leads up to the palace grounds on the summit. Visitors have to put on special suits to protect against hornets that have made nests along the staircase. One man who did make the climb said the view from above was more intimidating then the climb itself and remarked that the suit he had to wear was soaked through from other people's sweat!
The next morning, we visited the ancient Sinhala city of Anuradhapura, said to be the first capital city on the island from its longest lasting kingdom, stretching from 5BC to 10AD. Visitors flock here in the hope of catching a glimpse of its most prized relic — the bodhi tree said to be planted from a branch brought 2,250 years ago from the tree in Bodgaya, India, under which the Buddha gained enlightenment.
Our guide said the tree in India had been destroyed and so the one in Anuradhapura is regarded as the oldest living Buddhist relic in the world.
Many of Sri Lanka's temples are strict with their "no shoes" rule, and the Sri Maha Bodhi temple here is no exception. We had to leave our shoes in the bus and walk barefoot on the scorching pavements and concrete steps to the temple and the tree. It was so hot underfoot that I had to hop about, but there were those who were surprisingly composed throughout.
When asked how they managed, some said they tried not to think of the heat, while others said they had become used to walking barefoot during pilgrimages. Dhammaratana said what I was feeling was merely external heat and not pain.
"If you walk like this more often, the heat is even good for your health, for illnesses like rheumatism," he added.
A few oohs and ouches later, I made it to the tree and got an unobstructed view. It was a once-in-a-lifetime chance since the tree is fiercely guarded and few are allowed near it. I felt blessed for the opportunity. Accompanied by a monk from the temple, Dhammaratana made a robe offering by tying the orange cloth onto a tree branch and then we had a prayer session and got to take home some dry Bodhi leaves.
Next, we stopped at Plonnaruwa, Sri Lanka's capital from 11AD to 13AD, where we dispersed to view what is touted as some of the country's more splendid ruins of stupas and statues.
Our guide said he was saving the best for last. This was Gal Vihare, where four Buddha statues had been carved into a single granite rock. The first depicts the Buddha in deep meditation, followed by one of him in a seated pose symbolising enlightenment, then another of him standing. The final one is of him reclining.
"The one of the Buddha standing shows him feeling sorry for the sorrows of people, and the one in the reclining pose with his toes separated shows his passing," he explained.
The statues were carved 800 years ago by a king as a way of admonishing monks who had fallen into vice. Visitors are strictly prohibited from posing with the statues and are only allowed to take photos of them as they are.
One of the most scenic cities we visited was Kandy, which is nestled amidst hills. It was the royal capital of the last independent kingdom and is today a cultural, arts and religious hub which has been designated a Unesco World Heritage Site.
Our bus zoomed past beautiful and timeless buildings, some of which bear traces of Sri Lanka's colonial past, as well as rows of temples. The most famous of these is the Temple of the Tooth Relic.
The tooth relic is said to have been brought from India 1,600 years ago for safekeeping.
It is so revered that no ordinary person could enter the main altar room where it is kept inside seven heavily-ornamented caskets. Again, we were privileged in that we were allowed to pay respect at the altar room, the closest we could get to the relic.
It was a surreal and humbling experience that was over in a moment. I learnt that every day, 32 cups of rice and 42 vegetables are cooked as offerings to the relic.
"The tooth is only allowed for public viewing if a drought happens, or on very special occassions," said Dhammaratana's brother Aruna, who arranged for our special entry into the room.
"Once upon a time, a drought hit so severely that millions of people prayed simultaneously to the relic. Rain came and people rejoiced, and the practice has since become a tradition," he said.
Every August in Kandy, elephants carry the casket during week-long processions.
We also stopped at the Dambulla Rock temple which has a well-preserved monastery dating from the 1st century BC. Five of the main caves have been converted into shrines, and visitors can see magnificent Buddha statues and paintings of various gods and goddesses.
It is said that the first temple was built by King Walagambahu of Anuradhapura who once sought refuge in the caves for 15 years as he hid from south Indian usurpers.
Fellow traveller, Pat Lu, 48, a Christian, said she wanted to know more about Buddhism.
"When this pilgrimage came up, I thought why not (go for it)?
Religions are about understanding, love and compassion. The trip itself was a beautiful experience as I got to understand my Buddhist friends better and where they are coming from," said Lu.
As for me, I learnt to be a Buddhist first and journalist second. The experience taught me to be a little more understanding and tolerant, and to appreciate the simple virtues that the Lord Buddha preached.