Little Tibet, big impact
By ELIZABETH DALZIEL, The Advertiser, Oct 23, 2004
Leh, Ladakh (India) -- THEY are trekkers and seekers, backpackers and Buddhist followers, and they come to Ladakh for both spiritual sustenance and for rugged hikes amid ancient monasteries and snow-capped mountains.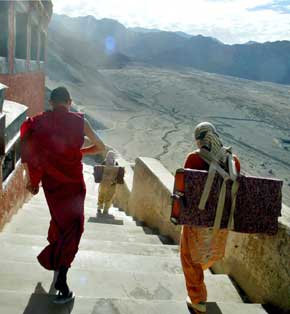 This northern region of India is a cold desert plateau, a western extension of the Tibetan Plateau in the great Himalayas, on the frontier with China.

Local residents include Tibetan refugees who crossed into the Indian Himalayas through what is known as ``the roof of the world'' and settled in an area now known as Little Tibet.
Monasteries perched atop small hills above the valley attract surprisingly large groups of Western tourists, including Europeans, North and South Americans, some Australians and a steady stream of young Israelis looking to decompress after completing their military service.
These visitors come to immerse themselves in Buddhist teachings and to master the rugged terrain.
But hiking and reaching the temples is far easier for the locals, who are acclimatised to altitudes that range from 3450m to 7020m above sea level.
The tourists are easy to spot, clad in bermuda shorts and toting cameras, sunglasses, colourful hats and water bottles as they fight the punishing sun while thronging to admire the marvels of craftsmanship on display at the monasteries, known as gompas.
In contrast, the locals' attire includes traditional outfits crafted from yak wool, and long gowns or jackets adorned with turquoise jewellery.
The most revered contemporary lama in Ladakh, known as Drukpa, draws a large following (both Western and local).
He is believed to be the 12th reincarnation of Naropa, a revered Buddhist scholar from the 10th century who is credited with introducing Buddhism to the region.
This northern summer, the Hemis Monastery near the town of Leh hosted an extravaganza held once every 12 years: the unveiling of a Tanka, a tall building-size traditional religious painting on silk.
The painting is dedicated to a reincarnation of the 11th Gyalwang Drukpa.
The Tanka was accompanied by masked monks representing Buddhist deities performing tantric dances.
But the Hemis event is just one of many annual religious festivals that draw both tourists and the Buddhist faithful, who take part in rituals - known as puyas - with great fervour.
These religious adherents include khampa nomads, who are believed to be the area's original settlers; the Brokpas, the last Buddhist Indo-Iranian tribe left in the world; and the Tibetan immigrants who now populate the area.
Ladakh is also considered safe for travellers, having been spared the violence that routinely mars the peace in the nearby insurgency-affected Kashmir Valley.
Ladakh is part of the Jammu-Kashmir state but is some distance from the Kashmir Valley, the hub of the insurgency.
Whether your interest lies in rugged mountaineering, a spiritual journey or a trek with nomads, Ladakh's ethereal beauty is guaranteed to enchant.
* Hotels are extremely cheap by Western standards, with rooms priced from about $6 a night.
For more details on Ladakh, phone India Tourism on (02) 9264 4855 or hit the website www.tourisminindia.com