The Buddhist Channel turns 5
By Oon Yeoh, The Buddhist Channel, June 8, 2006
The Buddhist Channel is now at a unique juncture, between Neverland and Everland. And there are only two options open to us: stay put and be contented where we are, or move on and bring the Dharma closer to the heart and mind of our readers. We have chosen the latter – Lim Kooi Fong, Founder and Managing Editor, The Buddhist Channel
Kuala Lumpur, Malaysia – It was not supposed to be like this. When the Buddhist Channel first went live on June 8, 2001 (then known as the Buddhist News Network), it was created primarily to feed aggregated news to Buddhists who had Internet access.
As a one-stop news aggregation service, it was a typically novel idea, an audacious product of the dotcom boom years. Five years on it remains the world's only Buddhist news portal.
This is a site which began as a one-man show, operating from the backroom of a small office in Petaling Jaya, a suburb located off the Malaysian capital, Kuala Lumpur. Today, it serves some 260,000 unique visitors a month, and is the second biggest Buddhist related website in the world, just after BuddhaNet.
The service which initially ran on a 100MB shared-hosting basis in Malaysia has migrated some six times over to cope with the rising usage of bandwidth and server space. Today, the site sits on a high speed, secured server located in Berlin, Germany.
Unique features
While news aggregation remains it core focus, the modest editorial team strives to produce original work. Over the years, it has packaged news according to selected categories, such as Arts and Culture, Archaeology and Music as well as regional coverage like Asia, Europe and North America. The collection of articles over the years has resulted in what is one of the richest resource sites for Buddhist content in the world.
"Many are not aware that the channel plays more than the role of a news aggregator," says founder and managing director, Lim Kooi Fong. "When we compile news on a daily basis for regular consumption, the compilation itself becomes a historical record of sorts. And so when someone looks back on the archives, they just go 'Wow!'. For first time readers, that's a common reaction."
Some of the channel's services are unique in the manner of approach and presentation. "Bodhi Wood," Lim points out, "is perhaps the only site in the world that offers a Buddhist perspective on contemporary Hollywood fare on a regular basis." And of course, there's the well-received travelogue section, where first-hand descriptions of uniquely Buddhist locations have helped drawn visitors to those places.
---
Get up close and personal with the BC's founder. Catch the Podcast here
Has the BC made any impact on you over the last 5 years? Have your say here
---
Community builder
Lim says that the Buddhist Channel has evolved over the years to become a platform for community building. "We've had some truly stirring examples where communities in far flung places come together to help resolve a problem," he adds.
One of his favorite examples was when some Sangha members from an Orange County temple (based in California) who were caught in hurricane Katrina's wrath in Biloxi, Mississippi and could not be contacted.
"Someone in Orange County e-mailed in to us asking if it was possible to get in touch with the entourage in Biloxi," Lim recalls. "We received that e-mail in the middle of the night, but felt the urgency to immediately publish the request on the channel's main page. And then we just sat there, and waited to see if something happens."
Sure enough an e-mail came through and said that the group was not harmed as they had been seeking shelter in an attic while the storm wreaked havoc outside. "You could virtually hear the sigh of relief from Orange County when we hosted the reply on site's front page, right here in Malaysia 12,000 kilometers away," he says.
The Biloxi incident was one of many issues when the channel news room was mobilized on a 24-hour mode to keep its readers in touch with events as and when they happen.
Some notable events include the close follow up of the destruction of the Bamiyan Buddhas (the catalyst for the site's creation), the use of Buddha's image by Victoria's Secrets for its range of bikini costumes and the plight of a Tibetan nun who was locked up in a US county jail.
What's coming next
After so many years of consistently feeding news to a global Buddhist community, what's next for the channel? According to Lim, the advent of an efficient broadband infrastructure has open up many possibilities for delivering different types of content to the site's visitors. "When readers have access to cheap, high-speed internet connection, their expectation of various modes of content available for download is heightened," he says.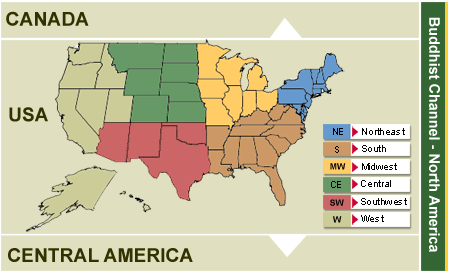 A Peek of what's to come. The "new" BC is geared to provide better services
for North American Buddhists by having coverage according to regions.
Amongst the areas which the editorial team would like to venture into are providing interactive tools such as a real-time events calendar, where community centers can host up information about their events from their end, RSS news feed by regions and categories, more detailed regional news (such as by country and special areas, instead of addressing by continents), more issues-driven reporting, news podcast which include exclusive interviews with Sangha members, events blogging and video streaming of Buddhist films and documentaries.
"The technology currently available to produce multimedia content is really affordable," says Lim. "However, the challenge with multimedia content is that it takes time to develop. And time translates into manpower costs, which literally adds up to become a non-starter if the site remains free and managed on a voluntary basis," he says.
This, however, doesn't mean that the site is about to start charging for content. Lim says that while the site will remain "free for eternity", the team will now be looking to the global community for support in the form of donations as the service moves into the next phase of development.
Lim reveals that the development and sustenance of the portal thus far has come from his own personal contributions (profits gained from his businesses), which adds to about US$ 80,000 a year.
Calling the new tagline of the Buddhist Channel as "Bringing Buddhism closer to home", Lim says that the service is now facing a critical phase in its development. By committing to bringing the channel closer to each and every Buddhist with Internet access, the team faces the reality of inadequate funding.
"The Channel is now at a unique juncture, between Neverland and Everland. And there are only two options open to us: stay put and be contended where we are, or move on and bring the Dharma closer to the heart and mind of our readers. We have chosen the latter," he says.
"We hope that as we strive to improve the services we are providing to a truly global Buddhist community, readers would reciprocate in ways by making a small donation so as to ease our burden," he adds.
To see how you can support the Buddhist Channel, please click here.
---------------
Oon Yeoh is Senior Editorial Consultant to the Buddhist Channel