Bringing Buddha Dharma Home
by Kooi Fong Lim, The Buddhist Channel, June 27, 2006
The latest upgrade exercise promises to provide more in-depth investigation of issues and greater outreach through regionalized news coverage
Kuala Lumpur, Malaysia -- Catch this day and mark it on your calendar: August 1, 2006, the day when we will launch the Buddhist Channel's (BC) most ambitious outreach program since its rebranding exercise in October 2004.
Code name "Bringing Dharma Home", the new look BC will bring you events and news the way a full fledge media enterprise would, through indepth investigative reporting and wider distribution network via regional news coverage.
But we will be doing it in our own, unique Buddhist way, that is through "Right Speech" (rather than Free Speech) and in the spirit of "Free Inquiry (as espoused in the Kalama Sutta, the Charter of Free Inquiry)". More on that later.
Come August 1, 2006 here's what you'll enjoy:
---
ASIA - Coverage by Countries
As the birth place of Buddhism, we will have in-depth coverage of the latest Buddhist development in the region by country. This is made possible through support given by representatives from their respective countries. Here's how Buddhist news in Asia will be segmented.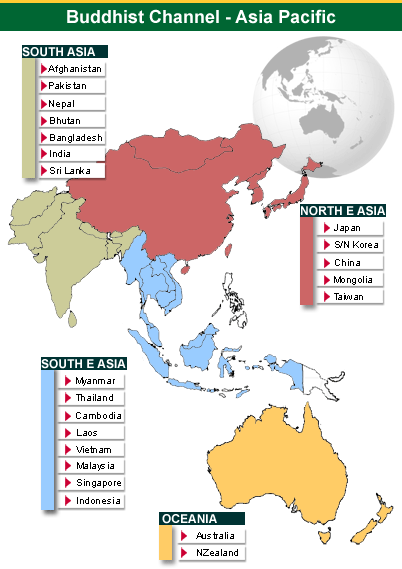 ---
NORTH AMERICA - Coverage by Regions
North America remains the world's fastest growth area for Buddhism. On another note, the region also provides the channel with the highest traffic. Given its recent rise and prominence in Buddhist development, the BC will cover the region according to the following segments: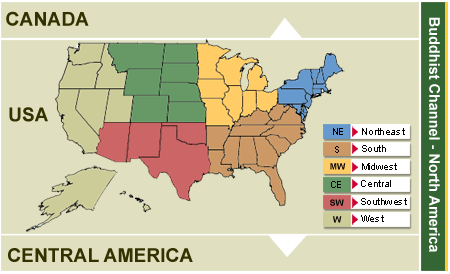 ---
REAL TIME EVENT CALENDAR
This free facility will initially be available for North American Buddhists (a calendar for each region). Community Centers now have an effective tool to announce their events to a wider audience. The calendar can be viewed by month, week or daily and events are clearly marked according to the 4 mainstream Buddhist schools. Here's a peek of what the facility will provide.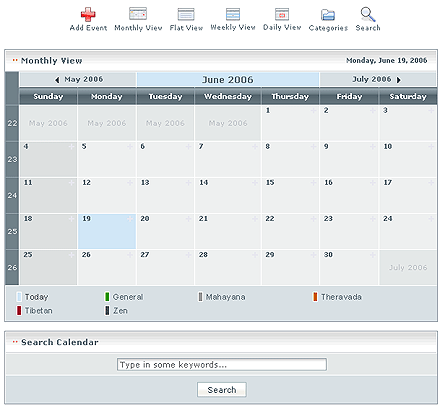 The real time event calendar can be viewed by month, week or daily.
Each event is marked according to a specific tradition/school.
Each region in North America shall have its own calendar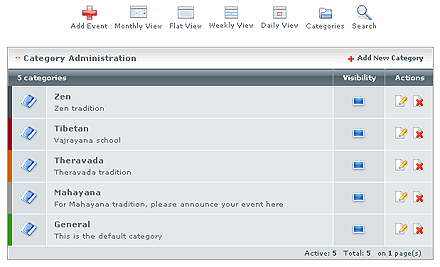 The real time event calendar is demarcated according to the 4
maintream Buddhist traditions
---
DHARMA PODCASTS AND WEBCASTS
The maturing of internet technology and broadband access have made it possible to deliver multi-media content. As the forefront media in disseminating Buddhist news and information, the BC intends to tap onto the rich opportunities provided by podcast and webcast as means to spread the Buddha Dharma.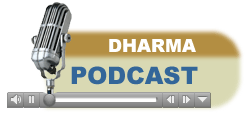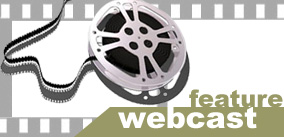 ---
While we are committed to deliver the best to our readers, we also hope that you'll appreciate the time and costs involved in putting all these together. At present, our work to sustain the BC is fully voluntary, and we support ourselves by the income that we earn through our day time job.
Nevertheless, we feel truly blessed to be a part of this instituttion, which have for the last five years served to become an indispensible outlet for Buddhists to know more about their faith wherever they are.
If you wish to help and keep us going, please feel free to make a small donation. We welcome any assistance that you can give.
Thank you and may you and your loved ones be well and happy always.