Permission for Buddhist temple in Sidcup refused
by Marina Soteriou , Bexley Times, May 4, 2011
Sidcup, UK -- Members of North Cray Residents' Association and Bexley Civic Society objected to the application for the change to North Cray and Sidcup Riding School in Parsonage Lane, Sidcup.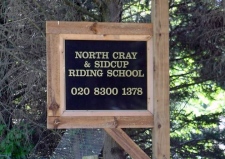 << An application to convert a riding school into a Buddhist temple has been refused on the grounds that it would increase traffic.
Councillors rejected the application last Thursday claiming the increase in traffic and parking would be unacceptable for residents.
The decision reads: "The development has the potential to adversely affect the amenity of residents neighbouring the site, by the additional movement of vehicles along the adjoining roads, and potential overflow parking, as well as by noise and disturbance arising from the activities carried out by the applicant organisation or its successors."
The applicant – Linh Son Hill Association - was unavailable to comment at the time of going to press. A spokesperson from the stables refused to comment as they claimed it was nothing to do with them.
Chair of the Bexley Civic Society Lee Abbott Clements said her residents' association only objected on the grounds of the increase in traffic.
She told the Times: "The roads are already very crowded."
However, a member from the North Cray Residents' Association wrote to object saying: : "Development of a religious meeting venue/centre, especially in a fairly isolated location, is surely a recipe for disaster? Buddhism is a peacefuland spiritual religion but if they moved on and a more radical group or cult took over it could be to the detriment of North Cray and its surroundings."