Sri Lanka Embassy in Germany commemorates the 2600th Anniversary of the Sambuddattva Jayanthi with an all-night recitation of Pirith
The Buddhist Channel, June 28, 2011
Berlin, Germany -- The Embassy of Sri Lanka in Germany in association with Das Buddhistische Haus (Berlin Buddhist Vihara) in Berlin – Frohnau, held an all – night recitation of Pirith Ceremony at the premises of the Embassy beginning at 8.00 p.m. on Friday June 10th 2011.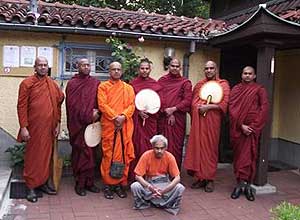 << Photo (Left to right): Ven. Halyale Wimalaratana (Switzerland),Ven . Kruwalagaswewa Anuruddha (Switzerland) Ven.Lendiyagala Sudassi (Switzerland) Ven.Kannimahara Piyasiri (München) Ven.Kongaspitiye Santharakkhitha (Berlin) Ven (Dr.)Wijayarajapura Seelawansa Nayake Thera (Vienna, Austria) Ven Thalpawila Kusalagnana (Hamburg), Mr. Piyasena (Seated) Kapakaru.
14 Buddhist Monks based in various cities across continental Europe and some visiting monks from Sri Lanka attended the function at the Embassy.
This event was held pursuant to a decision taken by the President Mahinda Rajapaksa to commemorate the 2600th Anniversary of the Sambuddattva Jayanthi on an all year basis commencing from the Vesak full moon Poya day of 2011.
In this context the understanding of the President and the Government is that appropriate religious activities, including programmes of religious work would be carried out by the Vihares, Institutions and overseas Missions to the best of their ability. This would include Buddhist sermons, Dhamma discussions, and meditation programmes (dhamma, seela bhavana etc.) among others.
Ven. Kongaspitiye Santharakkhltha Thero of Das Buddhistische Haus (Berlin Vihara) co-ordinated all activities regarding the all night Pirith ceremony pursuant to an invitation sent to him and all other monks by Major – General Jagath Dias, Deputy Chief of Mission, acting on behalf of the Ambassador. Eight of the venerable monks resided at the Berlin Vihara during their temporary stay in Berlin.
Mr. Tissa Weeraratna, Vice – President, GDS and Manager in charge of the Berlin Vihara ensured that the visiting monks were well looked after. A couple of monks remained at the Temple until the 20th of June.