Buddhism lessons teach German pupils the art of 'not thinking'
by Oliver Cech, Deutsch Welles, Aug 2, 2011
Buddhism has been part of religious instruction in Germany since 2003, but only in public schools in Berlin. Now, private schools in other German states have also begun putting Buddhism on their lesson plans.

Cologne, Germany -- Polly, Mandana, Franziska and Adrian, all between the ages of seven and nine, are supposed to be lying still on their mats - a tall order after having just been chasing each other around the school halls, playing to their hearts' content with their classmates.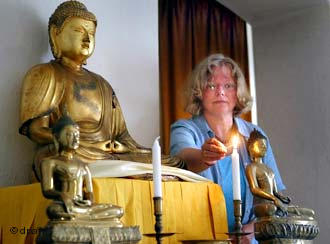 Their teacher, Werner Heidenreich, is losing patience, despite his Buddhist cool.
"You've already talked me into doing the meditation while you're lying down. Now do it right," he says, somewhat exasperated.
The Internationale Friedensschule (International Peace School) in Cologne offers Buddhism as a subject in their curriculum, with Heidenreich as the teacher. He also runs StadtRaum, a Buddist center in Cologne.
At the moment, he's trying to get Polly, Mandana, Franziska and Adrian to close their eyes, keep quiet, listen to their own breathing, feel their bellies move up and down, and sense the warmth in their hands and the tingling of their feet. In other words, they're learning to meditate.
Meditation is an art
The kids are divided on whether meditating is easy or difficult.
"You just have to concentrate; you lie or sit down and just remain quiet and still," says Franziska. "You don't have to think; you just open your mind."
Adrian believes meditating has to be learned. "You have to learn how to concentrate. You may sit down to meditate and have all these thoughts in your head, but you only become good at it once you get to the point when you're not thinking at all," he comments.
It's unusual to put "not thinking" on a lesson plan. Children of all grades can attend the class on Buddhism offered by Cologne's International Peace School. It is the only school in all of North Rhine-Westphalia - the most populous of Germany's 16 states - to offer Islam, Judaism, Hinduism and Buddhism, in addition to Catholicism and Protestantism, in its religion curriculum. Each class meets for two hours each week.
But how do you teach Buddhism to kids, with no real textbooks and no prescribed syllabus? Heidenreich has been teaching the class for the past three years and for him, it's a constant experiment.
"First, you have to consider what the goal of learning should be. What are we trying to achieve? What should a pupil learn, how should he or she develop?" he ponders. "To be honest, I'm still searching for answers to those questions."
He says that his lessons are a balance of encouraging personal development, while also relaying information and teaching understanding.
Theory and mindfulness
A cymbal rings. "May our friends and classmates feel peace and joy in their hearts," Heidenreich says, wrapping up the meditation. The cymbal rings again.
Heidenreich begins each lesson with this quiet meditation that focuses on the body. Then, explains Adrian, the "loving-kindness" meditation begins, a traditional Buddhist practice.
"You start with yourself, then you focus on your family, then your friends, then the whole world. Those are the most important things in life," he exclaims.
Even if sitting or lying still is difficult at times, all four kids enthusiastically say they like to meditate.
After meditating, they all sit at a round table and talk about what a Buddhist temple is, and how it differs from a Christian church. The Three Signs of Being, the Four Noble Truths, the Eight-Fold Path - Buddhist teachings are very systematic, says Heidenreich, and can easily be integrated into lesson plans.
What is difficult is connecting this theoretical system with the kids' everyday lives. But that is precisely the point: relaying more than mere abstract knowledge.
"They learn about clearing one's mind, about mindfulness, but they can then apply that when they sit down to do their homework or even sit down to play a computer game," explains Heidenreich.