Buddhist chants help revive Cheltenham coma man
Gloucestershire Echo, April 17, 2012
Cheltenham, UK -- WHEN pensioner Frank Soo suffered horrific head injuries in a car accident in Cheltenham, doctors gave him little chance of survival.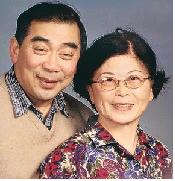 << HEARTENED: Frank Soo and his wife of 49 years, Kitty
The 73-year-old, who lives in Pittville, was left in a coma for five days, clinging to life by a thread.
In a desperate bid to stimulate his senses, relatives played Buddhist chanting in his ward at Cheltenham General Hospital.
Amazingly, he began to respond within minutes, opening his eyes for the first time.
Now he is talking, moving and eating – albeit from his hospital bed – and looks set to confound medical experts by making a full recovery.
His daughter Karen Soo, 39, said: "It has been an incredible turnaround.
"When he was first admitted to hospital, doctors said he had 'catastrophic' head injuries and was not likely to pull through.
"We had to prepare ourselves for the worst.
"But he has always had a very strong constitution and we knew if anyone could pull through it was him.
"He was unconscious for five days and on a life support machine. But when we started playing the music, his condition improved straightaway. First of all he opened his eyes.
"Then he was able to squeeze his right hand and move his limbs. He is taking small steps every day. It is amazing to see."
The accident took place on March 15, during Race Week, when Mr Soo, a stalwart of All Saints Church, was walking home from the town centre. He was struck by a silver BMW in North Place.
At the time, police said he was in a life-threatening condition with lacerations to the head and a fractured skull. Officers did not arrest anyone in connection with the incident.
On hearing news of the incident his family rallied round to be at his bedside.
His two sons, Mark and Ian, who live in Thailand, caught the next flight to London to be near him and their mother Kitty – Frank's wife of 49 years.
Karen said the whole family had been heartened by his progress.
And she put his remarkable recovery down to an inner strength inherited from his father Soo Yow, who arrived in Cheltenham in 1948 and founded what is thought to be the town's first Chinese restaurant – Ah Chow, at the site of what is now the Mayflower, in Clarence Street.
"I don't know how to describe it, but my dad has always been very resilient," she added.
"He has had a calmness about him and takes everything in his stride. We knew if anyone could make it, he could. And he is proving us right.
"There is still a long road to making a full recovery but we are very hopeful now. The hospital staff have been fantastic and we would like to thank them for all they have done.
"It just shows – you should never give up hope."