Czech Vietnamese plan for Buddhist temple in Prague
CTK, 19 April 2012
Prague, Czech Republic -- A big Buddhist temple might be built on the outskirts of Prague as part of the planned Vietnamese cultural centre, Vu Thi Thu, head and priest of the Vietnamese Buddhist association in the Czech Republic, has told journalists.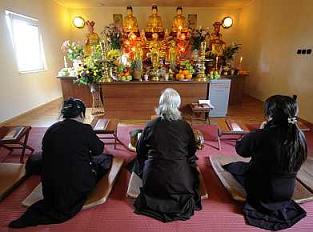 << A humble temple in Prague-Libuš. (CTK)
Czech Vietnamese already have a small temple in Prague-Libus, one of Prague's southernmost districts.
About four-fifths of Vietnamese adhere to Buddhism. After Slovaks and Ukrainians, Vietnamese are the third strongest ethnic minority in the Czech Republic. According to the Interior Ministry's data, 55,585 Vietnamese stayed in the Czech Republic legally as from end-November 2011, 37,497 of whom had permanent residence in the country.
"We want to build a cultural centre for us to have a place to pray in. We've already bough 12,000 square metres of land. However, we haven't gained the construction permit yet," Vu Thi Thu said.
Vu Thi Thu came to Bohemia 26 years ago to work at the Vietnamese embassy. After retirement she remained in the Czech Republic and took up care for the small Buddhist temple in Prague-Libus.
Apart from it, there is another Buddhist temple in the Czech Republic, which stands in Varnsdorf, north Bohemia.
Like Prague's planned big temple, the small one is situated in the Libus neighbourhood, known for a dense concentration of Vietnamese residents, near Sapa, the local giant marketplace run by Vietnamese. The Sapa complex also includes hairdressers' shops, restaurants, a kindergarten and traditional shops, apart from vendors' stands.
Tereza Kusnirakova, from Charles University's Geoemigration Centre, said Sapa plays a role in Vietnamese's integration in Czech society. It is visited practically by every Vietnamese coming to Prague, who gain here basic information about stay and conditions in the Czech Republic, Kusnirakova said.