Two Buddhist Nobel Peace Prize winners in UK
by Prasun Sonwalkar, PTI, June 19, 2012
London, UK -- By a quirk of coincidence, two Buddhist winners of the Nobel Peace Prize the Dalai Lama and Aung San Suu Kyi are in Britain at the same time, one spreading his spiritual message and the other on a homecoming of sorts after 24 years.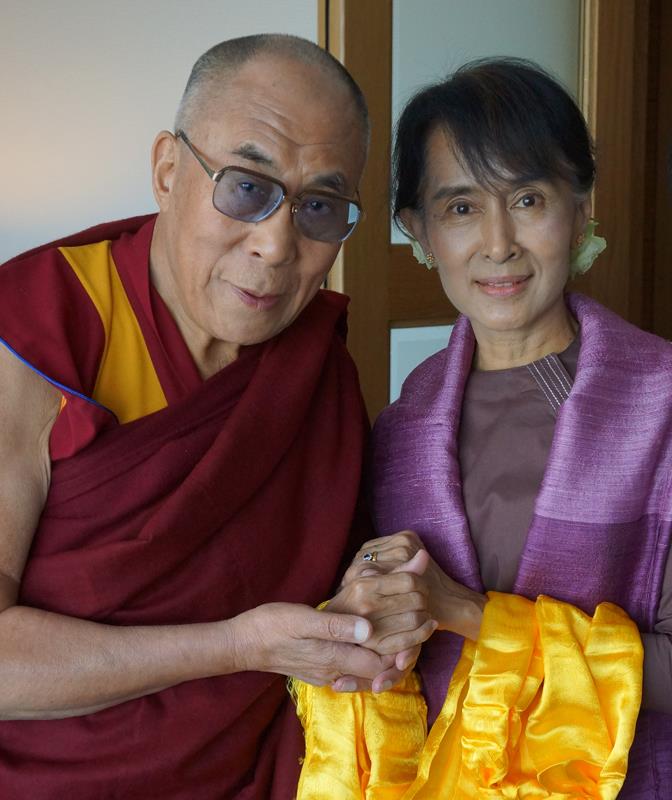 << The monk and the lady: Two Buddhist Nobel Prize winners meet face to face.
It is not known if the two would meet on British soil, but this morning both were in academic environs London the Dalai Lama delivering the C R Parekh Lecture at the University of Westminster, and Suu Kyi at a seminar at the London School of Economics.
Suu Kyi arrived here from Ireland on the second-last leg of her European tour (she will travel next to France before returning to Myanmar).
This is the first time she is in Britain since 1988, when she left Oxford to look after her ailing mother in Myanmar, never to return, until today.
Sceptics quipped that since the two Nobel Peace laureates were in the UK, they were in a good position to advise Prime Minister David Cameron and his government on how to prevent conflict and ensure peace amidst economic depression and job losses in the country.
Controversy has dogged the visits of both: China reportedly objected to the Dalai Lama addressing a business convention in Leeds, where it has signed a 250,000 pounds contract with the city council to set up pre-Olympic training camp for its athletes.
His address went ahead after the city council withdrew its involvement with the business convention, but not before China was accused of trying to pressurise the local council.
China-UK ties have turned frosty since Prime Minister David Cameron and his deputy, Nick Clegg, met the Dalai Lama in London last month.
Suu Kyi''s visit has been hit by accusations that Cameron had ''hijacked'' her and was using her as a ''political shield''.
Amidst her packed schedule, Suu Kyi will spend some time with Cameron in his constituency of Witney, and accompany him on a walk in the sylvan countryside.
Suu Kyi''s schedule, drawn up by the Foreign Office, has reportedly angered members of the All-Party Group for Democracy in Burma, along with charity organisations and human rights groups.
The Dalai Lama has held several public sessions in Manchester and London, and is due to travel to Scotland later this week.