Vesak Celeberated In Brussels With Participation Of International Buddhist Community
Asiantribune.com, May 28, 2013
Brussels, Belgium -- Decorated with Buddhist flags, scores of colourful Vesak lanterns, and also other decors presented by several Buddhist countries, gave an ambiance of a temple and serene atmosphere to the Sri Lankan Residence in Brussels, on the evening of Sunday 26th May, when the Embassy of Sri Lanka to the Kingdom of Belgium, Luxembourg and the Mission to the European Union marked the noble Day of Vesak.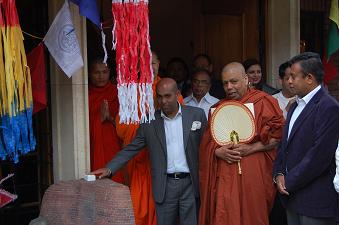 The event was graced by the presence of Hon. Deputy Speaker of the Sri Lanka Parliament, Mr. Chandima Weerakkody and the five-member cross-party Parliamentary delegation from Sri Lanka who are on an official visit to the European Parliament.
Ven. Murungasyaye Gnanissara Nayaka Thero of Jethavana Vihara in Paris and Ven. Pra Shdhinanaivides of Wat Thai Dhammarama Temple in Brussels and monks conducted the religious ceremony, including the Buddha Pooja, a Dhamma Sermon, and invoking blessings by chanting Seth Pirith followed by a brief meditation programme.
The second half of the programme began with the lighting of the Vesak lanterns by the participants and inaugurating the illumination. Addressing the gathering that consisted the diplomatic corp, the Sri Lankan community in Belgium and Luxembourg, Ambassador P.M. Amza, recalled the joint efforts of the international Buddhist community, led by Sri Lanka to gain international recognition for the Day of Vesak in 1999. The life of Lord Buddha, was exemplary and his teachings convey a timeless message for every individual to live happily and peacefully, he said.
A brief cultural programme symbolizing the diversity with which the millions of Buddhists around the world commemorate Vesak, brought in a group of Sri Lankans and Mission staff singing devotional songs (Bakthi gee), and the Thai Buddhist Community presenting two traditional dance items honouring the noble triple gem. At the end of the days programme, the gathering also had the opportunity to enjoy a sumptuous Sri Lankan vegetarian meal.