Forced out by vandals
By Lucy Brinicombe, This is Local London, May 11, 2005
London, UK -- BUDDHISTS are giving up converting an empty cottage into a Temple after vandals left it wrecked. After two months of relentless arson and criminal damage they are abandoning plans to make Colyer Hall's caretaker's cottage, on Colyer Road, Northfleet, their spiritual home and a community centre for everyone in the area.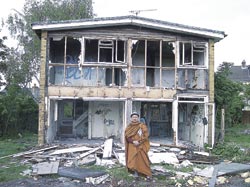 << The old caretaker's cottage is now a shell after repeated attacks by vandals
The last straw for the 300 Buddhists was when the front wall was ripped away, exposing the fire-damage and vandalism inside.
And, with a reported wall of silence from many in the community, some Buddhists are questioning whether they have been targeted because of their religion.
Despondent group chairman Harry Smith, 52, of Milton Road, said: "It's a sad day because the temple had so much potential for everyone and not only was it destroyed, it was allowed to happen."
"There are a few people who've suggested it's because we're Buddhist and I can understand why they feel like this but I just think it was vandalism for vandalism's sake."
The Buddhists approached News Shopper in March last year calling for a Temple in north Kent after their nearest one in Essex shut down.
Kent County Council (KCC) handed over the caretaker's cottage, which was earmarked for destruction, after hearing their case.
KCC and borough Councillor Ray Parker, who campaigned on the Buddhists' behalf, says the cottage was already a magnet for vandals and has ruled out religion being involved.
But he said: "It's a great shame the locals don't seem to know what their children are up to and, when Gravesham Council is just celebrating obtaining beacon status for diversity, we could not have welcomed another sector in the community which the borough could have been proud of."
The cottage was to be called Wat Santivanaram, meaning Temple of Peace.
Buddhist Chris Pink, 55, of Trivett Close, Greenhithe, said: "Obviously it just wasn't meant to be but we're looking at another couple of places in Gravesham and we're determined to find somewhere."
KCC installed security shutters around the building and local beat officers heightened patrols but it was to no avail.
A north Kent police spokesman explained the beat officers were only made aware of the situation three weeks ago and told the group to report all the crimes which occurred.
Reports from neighbours of youngsters clambering over the roof is all which is recorded.
The police spokesman added: "Unfortunately because the crimes were not reported, the problem wasn't picked up sooner."