Russia to Promote Religious Diversity by Building Buddhist Temple
RIA Novosti, Oct 30, 2014
MOSCOW, Russia -- The first Moscow's Buddhist temple, symbolizing Russia's religious diversity and promoting friendly interconfessional and interethnic relations, will be built in Russia's capital by 2017, Izvestia.ru reported Thursday.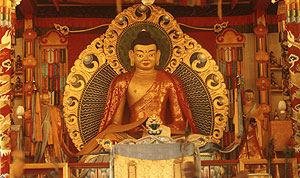 "We need to be tolerant of people having various religious beliefs," said Renat Laishev, member of the Moscow City Duma Commission. "There are mosques, synagogues, Orthodox and Catholic churches in Moscow; the emergence of a Buddhist religious center is unlikely to cause much surprise."
The temple's construction will commence in spring 2015, in Moscow's Otradnoe region, the newspaper reports. The three-storey religious center will contain a meditation hall, library and cinema as well as a five-meter Buddha statue. The temple will offer its visitors Tibetan medicine, as well as acupuncture treatment. During special celebration days, parishioners will also be able to try Vietnamese, Tuvinian, Buryat and Mongolian cuisine free of charge.
The construction process is reported to be financed by sponsorship money and donations. According to preliminary data, expenses are estimated at about 250 million rubles ($5.8 million).
As previously reported by Izvestia.ru, some Moscow citizens opposed the construction of the Buddhist temple in the Otradnoe region, claiming that it could lead to religious clashes due to a high number of varying religious institutions in the area.
However, Moscow officials think that such religious confrontation is quite unlikely. They refer to the positive experience of European countries, where various religious centers are situated within one building, without causing any trouble for the local population.