Moscow's first Buddhist temple to feature five-meter Buddha
by Roxana Avetisyan, Russia Beyond the Headlines, November 6, 2014
The Buddhist temple will be built at 15 Novovladykinsky Drive, in the Otradnoye District in the north of Moscow. It will have a total area of 1,186.5 square meters
Moscow, Russia -- In the first Buddhist temple in Moscow, which should be built by 2017, worshippers will have an opportunity to obtain acupuncture treatments and also try Tuvan and Vietnamese dishes.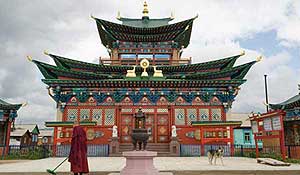 Moscow is finally to receive its first Buddhist temple. In addition to a prayer hall, the three-story temple complex will contain a meditation hall, library, cinema and a five-meter statue of Buddha. The temple's construction will be financed by money provided by sponsors and general donations. According to preliminary estimates, this construction project will cost 250 million rubles ($5.4 million).
Efforts are currently underway to raise the funds necessary to build the temple, with construction slated to start in the spring.
"Now we are beginning our fundraising campaign. As soon as a sufficient amount is collected, we will immediately start construction of the temple," says Dulma Shagdarova, Chairperson of the Moscow Buddhists Community, who explains that construction will last about two years.
The temple complex, to be built in the capital's Otradnoye District, will have three floors. The ground floor will consist of a prayer hall, rooms for priests and a dining room for worshippers. On the second floor, there will be a conference hall, rooms for Buddhist teachers and a meditation hall.
The third floor will be equipped with a library and cinema, where they will show documentaries about Buddhism. The medical center and the cloakroom will be located on the semi-basement floor. A small temple will be built on the roof.
"At the wellness center, worshippers will be able to receive acupuncture treatments and take advantage of Tibetan medical services. In the dining room of the temple, visitors will have the opportunity to try Vietnamese, Tuvan, Buryat, and Mongolian national dishes at affordable prices," said Shagdarova. "During main Buddhist holidays, worshippers will be fed free of charge."
In 2012, during public hearings on the construction of the religious center, more than 400 local residents voted against allowing the temple to be built. The main reason for their dissatisfaction was that besides the Orthodox churches, the area already has a mosque and a synagogue. Participants at the hearings expressed concern that such a variety of religious centers could lead to religiously motivated violence.
Nevertheless, Renat Layshev, a member of the Moscow City Duma Committee for Public Associations and Religious Organizations, believes that the capital city needs a Buddhist temple.
"Moscow already has mosques, synagogues, Orthodox and Catholic churches, and so the appearance of a Buddhist religious center should not be a surprise to anyone. Besides, Buddhism is one of the oldest religions in the world, and representatives of this denomination have a right to their own temple, and not necessarily only in the Otradnoye District," said Layshev.
"For example, in Germany, several religious centers may be placed in one building. Catholics, Muslims, Christians and Jews use the same building, just come into it via different doors – and no religiously motivated violence ever occurs."