Buddhist Cooperation Council of Sweden participates in "Refuse to Hate!" program
The Buddhist Channel, June 2, 2015
Bangkok, Thailand -- The Buddhist Cooperation Council of Sweden has announced a national campaign of solidarity with the National Interfaith Council of Sweden called 'Refuse to Hate!'.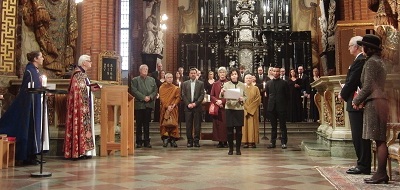 << Representatives of various faith communities in Stockholm Cathedral in the presence of the Royal Family
The program was manifested in Stockholm on February 2015 during the Global Interfaith Harmony Week in many Christian, Muslim, Jewish, Buddhist and other places of reverence in Sweden.
In her address delivered at the United Nations Day of Vesak which recently concluded in Bangkok, Ekaterina (Katja) Panova, Secretary of The Buddhist Cooperation Council of Sweden, said that "... while Buddhists share happiness on the many positive developments ... we also express our feelings of sincere concern about the deep sufferings caused by the increasing violent actions during the last years."
She adds that "... violence crimes are occurring both in Buddhists and non-Buddhist regions of the world," which is "... highly contradicting the universal ethics of love and understanding, and each and everyone's responsibility for peaceful co-existence in the society."
Her message also mentioned that various religious leaders in Sweden are united in their position on religious hostility, and especially on hatred towards the Muslim and Jewish populations.
"We call upon all Buddhist leaders, associations and members for sharing our collective increasing efforts to strongly propagate the basic Buddhist values of non-violence," she concludes.
The "Refuse to Hate!" program produced a manifest which was distributed to the public. Besides of the English version, it is also available in different Asian languages. The following is a copy of the manifest in English.
More info, please visit: http://www.buddhism-sbs.se/English/engframeset.html
---
Statement from the National Interfaith Council of Sweden on the "Refuse to Hate" campaign
All over the world, violent acts are carried out in the name of religion. In Sweden, Jewish institutions, churches and mosques are subjected to vandalism and criminal damage, and people suffer harassment and physical attacks for wearing their religious symbols. This is unacceptable in a society that defends each person's right to their beliefs and to express and practice their religion.
As representatives of various religions and faith communities in Sweden, we strongly reject aggression, hatred and violence with religious overtones, both when we are the targets and when it stems from our own communities. We would instead like to highlight the opportunities created by religions to contribute towards social and democratic development in Sweden and around the world. Our religions are based on principles that emphasise honesty, justice, the importance of caring for others and the pursuit of the common good. People of different faiths may have contrasting beliefs, but they are united in their endeavour to achieve good in society. We want to show our support for religious freedom and Refuse to Hate!
Everyone, believers and non-believers, has a duty to defend democratic society's freedom of religion and belief. Members of different communities want to support one another's right to practice their faith. We also want to encourage political representatives, government agencies, organisations in civil society and everyone who is a defender of justice and peace to stand up and show their support for Refuse to Hate!
Representatives from the various religions in Sweden are united in their position on religious hostility, hatred towards Muslims and anti-Semitism. This text has been adopted by the National Interfaith Council of Sweden, which functions as a national forum for religious leaders. We, the undersigned, want to use this appeal as a call to action to encourage demonstrations of solidarity: Refuse to Hate!
Let's pass on the baton!
For the National Interfaith Council of Sweden on 22 December 2014
Elvir Gigovic
Muslim Council of Sweden
Helena Hummasten
Muslim Council of Sweden
Mustafa Setkic
Imam, Bosnian Islamic
Haider Ibrahim
Community Islamic Shia Society
Trudy Fredriksson
Swedish Buddhist Cooperation
Bhante Dhammaratana
Council Swedish Buddhist Cooperation Council
Örjan Widegren
Swedish Bahá'í
Sudhagar Ragupathy
Assembly Hindu Society
Genzabra Salwan
Mandaean-Sabian Society
Alkhammas Jaspal Singh
Swedish Sikh Community
Maynard Gerber
Official Council of Swedish Jewish Communities
Karin Wiborn
Secretary-General, Christian Council of Sweden
Antje Jackélen
Archbishop of the Church of Sweden
Benjamin Atas
Archbishop of the Syrian Orthodox Church
Anders Arborelius
Bishop, Catholic Diocese of Stockholm
Pelle Hörnmark
Director Swedish Pentecostal Fellowship
Download manifest in the following languages:
Chinese | Swedish | Burmese | Vietnamese | Thai