London Buddhist Vihara 2015 Kathina Ceremony
by Tissa Madawala, Sriexpress.com, 3 Nov 2015
London, UK -- KATHINA signifies the traditional end of the Vassa (Rainy) Season pertaining to the Buddha's own home ground in Northern India. A Vihara may perform this ceremony only once in any particular year.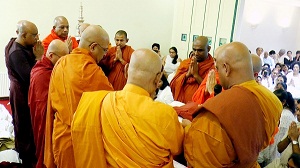 Kathina is an auspicious event giving devotees the rare opportunity of offering a Kathina Robe to the Sangha who have observed the Rainy Retreat (Vassa) at this Vihara.
The occasion also gives an opportunity for practisingDana (generosity) in providing useful requisites to the monks and to the Vihara in general. The ceremony commemorating this event was celebrated at the London Buddhist Vihara on Sunday, 01st November 2015.
Programme was organised with the guidance of the Head of the Vihara and the Chief Sangha Nayaka of Great Britain Most Ven. Bogoda Selawimala Nayaka Thera.
Deputy Incumbent of Bellanwila Rajamaha Vihara, Anunayake of the Kotte Sri Kalyani Samagri Dharma Maha Sangha Sabha and the Chancellor of the University of Sri Jayawardhanapura in Sri Lanka, Most Ven. Professor Bellanwila Wimalarathana Nayaka Thera attended the Pinkama as a special guest.
Head of the Thames Buddhist Vihara Ven. Ahaliyagoda Dhammapala Thera, Ven. Naradha Thera from Thames Buddhist Vihara, Head of the Lumbini Vihara, East London, Ven. Makure Mangala Thera, Head of the Read-bridge Buddhist Vihara Ven. Pethigamuwe Hemarathana Thera, Head of the Edmonton Buddhist Vihara Ven. Gunnapane Ariyawansha Thera, Ven. Sumanarama Thera from the Edmonton Buddhist Vihara and resident monks of the London Buddhist Vihara Ven. Thawalama Bandula Thera, Ven. Dedunupitiye Upananda Thera, Ven. Konwewe Ariyarathana Thera and Ven. Kalugamuwe Kassapa Thera attended the ceremony.
Kathina Ceremony was sponsored by Mr. Daya Mendis and Mrs. Rani Mendis with their family members, Dinesha Ryani Mendis, Dilshini Ramesha Mendis Sandhu and Harjit Sandu.
Many of the London Buddhist Vihara devotees also assisted the Mendis family in various ways to make this years Kathina ceremony a great success.
At the request of the Maha Sangha, In recognition of the invaluable services rendered by Mr. and Mrs Mendis, the Most Ven. Rambukwelle Sri Dharmarakkitha Vipassi Mahanayka Thera of the Malwaththa Chapter of Siam Maha Nikaya in Sri Lanka in 2002 awarded the prestige title of " Keertghi Sri Priya Dharshana" to Daya Mendis. Mrs. Mendis is a reputed Gemologist. They both are devout supporters of the London Buddhist Vihara.
Ven. Seelawimala Nayaka Thera welcomed the Maha Sangha and all the devotees and delivered a Anusaasana explaining the beginning and the significance of the Kathina Cheewara Puja ceremony. He said that Kathina Puja is the most important the annual alms giving ceremony of the Buddhist year.
Ven. Professor Wimalarathana Nayaka Thera, Ven. Dedunupitiye Upananda Thera and Ven. Konwewe Ariyarathana Thera delivered sermons.
Ven. Bandula Thera in his Punyaanumodanaa thanked the Maha Sangha, sponsors of the Pinkama, every one who attended and members of the Dayaka Sabha and all the supporters of the Vihara for their hard work to make this year's Kathina Pinkama a success.