North-east Buddhist monk seeks to help struggling former oil workers
by Jon Hebditch, Aberdeen Journal, 2 November 2015
Aberdeen, Scotland (UK) -- A Nepalese Buddhist monk who raised thousands of pounds in the aftermath of the huge earthquake in his homeland this year has turned his attention to struggling former oil workers in the north-east.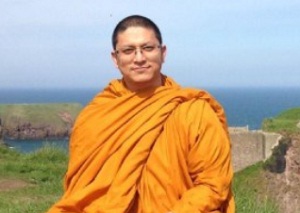 Venerable Sujan, who operates the Varaunya Meditation Centre in Aberdeen's Constitution Street, said he had been so impressed with the generosity of people in the region that he wanted to help those affected by the offshore industry downturn.
The Nepal earthquake killed more than 9,000 people and left more than 23,000 injured when it struck the country in April.
But people in the north-east were quick to reach into their pockets and Venerable Sujan raised more than £7,000 thanks to his appeal in the Press and Journal.
Now he is hoping to make contact with people who have ideas about how to help the thousands of people who have lost their jobs in the North Sea.
He said: "This Christmas people in the city of Aberdeen are suffering from the effect of the oil downturn with many losing their jobs and facing an uncertain future.
"I would like to lend my support to the people who are affected.
"This year in April, Nepal was devastated by the earthquake, which affected many people in my country.
"I asked for help from the people of Aberdeen to raise awareness and funds to support my fellow countrymen. I was overwhelmed with the warmth and kindness of the citizens of the north-east and this appeal raised just over £7,000.
"Today, we are facing a new crisis in the city due to the oil and gas downturn. Many are facing difficulties in different ways, financially and mentally.
"However, I found that the issue has been pushed aside.
"This issue should be discussed openly in a wider community to initiate ways to address and support, raise awareness and finding and raising funds for this cause.
"There should have an open discussion on how best can we help, raising funds and the funds can be implemented effectively."