Worcester Buddhist Centre moves to temporary new home at St Richard's Hospice
Malvern Gazette, March 29, 2016
Worcester, UK -- WORCESTER Buddhist Centre is moving to a temporary new home as it aims to increase its presence in the city.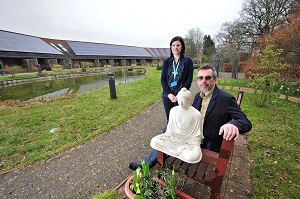 The group has outgrown its Melbourne Street home and will be based at St Richard's Hospice from next week.
It hopes the move will help it increase numbers and benefit hospice users, their families, staff and the public.
The group is holding an open day at the hospice on Saturday, April 9 from 2pm to 5pm and is encouraging people to drop in and see what it has to offer.
Mindfulness and meditation are becoming increasingly popular and both are at the core of Buddhist practice.
Buddhism is also on the rise and chairman Nibbhaya said many people who attend the group's courses are looking for new approaches to coping and finding meaning.
He said: "Meditation and mindfulness are crucial, not for just being a little happier and kinder but to create a mind that can see what is really true.
"Meditation is a practice to facilitate the mind becoming calm, clear, absorbed, energetic, emotionally positive and empathetic.
"Mindfulness is about being fully present when you do any activity. Meditation takes an active effort, whereas mindfulness takes a receptive effort. The two are complementary."
The group teaches three meditation methods in its introductory courses which start at the hospice on Thursday, April 7 and Saturday, April 9.
Nibbhaya stressed there was no need to have any previous experience of meditation or be a vegetarian to attend the courses.
He said: "When you attend an introductory course, you will be exploring Buddhist teachings, not saying you are a Buddhist."
The group is also looking into offering free sessions for people who use the hospice and staff.
Nibbhaya said: "Using the hospice means that the most challenging time in life may be being faced.
"I would like to think we can offer periods of peace and some skills with working with challenges at this time."
The search for a permanent base continues but so far the group hasn't found a suitable venue.
Nibbhaya said: "Our needs are quite unusual, two large rooms of about 600 square feet, kitchen, toilet, easily accessible parking and preferably on site accommodation for a few people."
Share article
The group is part of the Triratna community which has its headquarters near Ledbury and centres in other UK cities and across the world.