Plan to build traditional Buddhist ordination hall in Runcorn
by Oliver Clay, Liverpool Echo, 1 Jul 2016
Wat Phra Singh unveils provisional designs for 'ubosot hall'

Liverpool, UK -- A BUDDHIST temple in Runcorn has revealed provisional plans for a traditional ceremonial hall.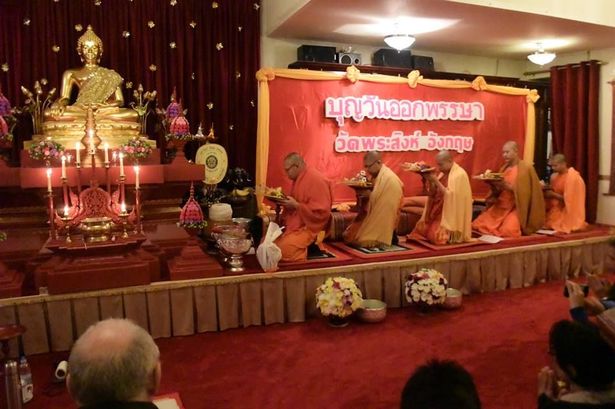 << Monks holding a ceremony at Wat Phra Singh in Runcorn during Vassa, or 'Buddhist Lent', in October.
Wat Phra Singh revealed on its Facebook page that it had submitted early proposals for the structure with Halton Council.
The 'ubosot hall' would be used to host ceremonies and celebrations which at present take part in a large temporary marquee.
Temple monks in Runcorn contributed to the designs, which were then approved by senior monastic figures in Chiang Mai, Thailand.
Jenny Stubbs, Wat Phra Singh, said the project will incorporate traditional features such as the placing of 'bai sema' stones to mark the sacred boundary.
She said the plans may be refined before being finalised and resubmitted.
Tony Collacott, temple founder and trustee, wrote on Facebook that is hoped the hall would become a 'major tourist attraction' and 'useful asset' for Runcorn.
He said potential grant options are being explored for the 'ambitious' projects.
Designs uploaded to the Wat Phra Singh Facebook page reveal the plans include a main ordination hall, a large Buddha statue and a traditional multi-tiered roof.
Since it opened, Wat Phra Singh has established its place on the Buddhist map of Britain and regularly attracts hundreds to its celebrations and ceremonies including for traditional holy days and Thai holidays where visitors can enjoy free food, colourful displays and blessings.
Its members also welcome resident monks from Thailand.
For more information visit the Wat Phra Singh Facebook page (https://www.facebook.com/Wat-Phra-Singh-UK-158152780991951/?fref=ts)