"Be a 21st century Buddhist," says the Dalai Lama in Zurich
By Tenzin Dharpo, Phayul, October 15, 2016
DHARAMSHALA, India -- The Tibetan leader His Holiness the Dalai Lama has urged Tibetans to become modern Buddhist practitioner; relying not on what is being taught but rather explore on their own the teachings of the Buddha to fully understand the knowledge. The 81 year old Tibetan leader was speaking during a teaching in the Swiss city of Zurich yesterday.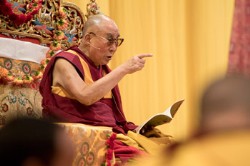 << Tibetan leader His Holiness the Dalai Lama speaking at the Hallenstadion in Zurich, Switzerland. Oct. 14, 2016. Photo-Manuel Bauer, OHHDL
"We Tibetans have a culture rooted in the Nalanda tradition that emphasizes study, reflection and meditation. We've preserved it for more than 1000 years. In Tibet, Tibetans have kept their spirit alive. We in exile are their representatives," the Buddhist master said.
The egalitarian Tibetan leader's presence was greeted by over 9000 Tibetans and foreigners at the Zurich Hallenstadion in Zurich. While thanking the initiatives by the local Tibetans to offer a long-life offering for him, the Dalai Lama said, "Whether the Lama lives long is not dependent on the ritual so much as on the strength of the spiritual bond between the Lama and the disciple."
The first chapter of Nagarjuna's 'Precious Garland' which explained how to attain the high status of good rebirth, the second volume of 'Stages of Meditation' composed by Kamalashila and the '37 Practices of a Bodhisattva' by Ngulchu Thogme Sangpo, were read and explained during the teachings.
Speaking on the controversial Dholgyal deity, the Tibetan leader recalled, "I did the practice for some time, although there were several great teachers at Drepung who were apprehensive about it. Eventually I did a divination about it that prompted me to stop. I discovered that the 5th Dalai Lama had written that Tulku Drakpa Gyaltsen had been lucky to be recognized as the reincarnation of Gelek Palsang. He also wrote that Dolgyal arose as a result of distorted prayers and that he harmed beings and the Dharma."
The Tibetan leader said that Dholgyal propitiators staging demonstrations against him does not affect him. He said, "They (Dholgyal followers) criticized me and you may have seen the demonstrations they held against me and the way they depicted me—not that I mind about that, but I am concerned about their ignorance."
In Dec. 2015, Reuters exposed Chinese government (Communist Party's United Front Work Department) providing clandestine support in terms of funding to Dorjee Shugden groups to organize smear campaigns against the Dalai Lama.
Following his schedule in Switzerland, the Tibetan leader will travel to Slovenia, Czech republic and Italy to give teachings and public talks.