Dalai Lama's G8 poverty appeal
AP, July 6, 2005
EDINBURGH, Scotland -- The Dalai Lama has called on G8 leaders to do their utmost to ease the plight of millions suffering from poverty.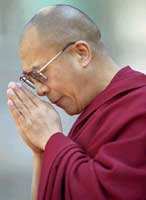 In a statement read out by rock singer Annie Lennox, the Tibetan Buddhist spiritual leader said on Tuesday the G8 summit beginning in Gleneagles, Scotland on Wednesday had "positive potential."
"I call upon G8 leaders and their advisers to consider and reflect upon the consequences of their thoughts, decisions and actions. Do they and will they contribute to the well-being of all human beings and the planet?" Lennox said, reading from the statement.
"We require not only compassion for those who suffer, but also a commitment to share what we have with those in need," Lennox added.
"The G8 summit and the Make Poverty History campaign can and will be turning points in history if G8 leaders and their governments live up to their earlier commitments to take actual steps to reduce poverty in the world," the statement said.
"If they succeed, we all will benefit, whereas failure will harm us all. Let us widen our perspective to include the well-being of the whole world and its future generations in our vision of prosperity and freedom."
"This is an issue of human rights. This is a moral issue. This is about the whole of humanity," Lennox told the Associated Press.
"It is not really about the interests of Germany, or the interests of France, or farmers. It is a global message.
"I fear that if certain decisions are not taken, if certain moves are not taken in the right direction, I really despair for poor countries in continents like Africa," added Lennox, who is scheduled to play at a rock concert in Edinburgh on Wednesday night.
Lennox will be joined by a line up of other rock stars and bands in Wednesday's concert called "Edinburgh 50,000: The Final Push." Organizers say the figure refers to the number of people who will die that day alone from extreme poverty.