Dalai Lama to make a return visit to Scotland
By IONA MCGLYNN, Scotsman, September 1, 2005
Edinburgh, Scotland -- EXILED spiritual leader the Dalai Lama is set to visit Edinburgh for the second time in just over a year, after revealing he is a great fan of Scotland.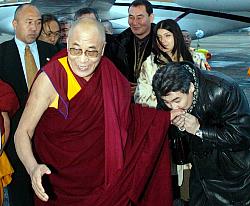 The Tibetan Buddhist is set to return to the Capital in November. He will spend two days here after being invited to take part in a conference by the Edinburgh Inter-Faith Association's general secretary, Victor Spence.
His Holiness is flying into the Capital to be one of the speakers at the "positive" education conference for teachers.
He is stopping off in Scotland on his way home to India from the US to give a speech and hold a question-and-answer session. He is only planning to visit Edinburgh during his return to Scotland, which is taking place on November 18 and 19.
The Dalai Lama visited the country in May last year when he met First Minister Jack McConnell and addressed MSPs in the Scottish Parliament. He also met Lord Provost Lesley Hinds and hosted an audience in the Usher Hall.
He was keen to address the education conference after speaking to hundreds of schoolchildren during last year's trip.
Organised by the Inter-Faith Association and supported by education organisations and local authorities, the conference will focus on the importance of teaching values to children. The Dalai Lama will talk about how he feels it is important that schools help pupils to develop "warm hearts".
Mr Spence and city entre-preneur Sir Tom Farmer visited him at his home in Dharamsala in India in January this year.
They expected a maximum of 40 minutes with the Dalai Lama, but their audience lasted one hour and ten minutes. The head of state for the Tibetan government, who has been in exile since 1950, told them how much he had enjoyed his previous trips to Scotland.
Mr Spence said: "We are exceptionally fortunate that he has agreed to do this, and it is exceptional that a small country has His Holiness returning to it so soon.
"Everybody realised that His Holiness was receiving a very warm welcome during his last visit. The people of Scotland will no doubt show him the same warmth that he experienced and deeply remembers from 2004."
Sir Tom said that he is looking forward "very much" to meeting up with the Dalai Lama once again.
"I will do everything that I can to ensure that his visit will be enjoyable for him, and that we give him the same good Scottish hospitality as before," he said.
Edinburgh Council leader Donald Anderson said that he was looking forward to welcoming the Dalai Lama back to the Capital.
"I understand that he enjoyed his time here before," he added.