Pass to a better world with Buddhist degree
By Shahid Naqvi, icBirmingham Education Correspondent, Nov 21 2005
Birmingham, UK -- Britain's first Buddhist University offering degree courses in the teachings of the Buddha will be launched in Birmingham this week.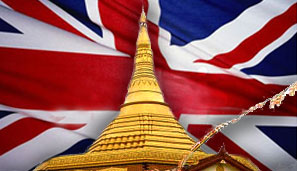 The ground-breaking centre is to offer full-time and parttime undergraduate study for initially about 20 students, based at the Buddhist Pagoda in Ladywood.
A respected Buddhist monk from Burma has been recruited to head courses which will tackle issues such as finding the path to enlightenment and the art of meditation.
He will be supported by a further five Buddhist masters, dressed in traditional robes, who live at the Vihara Pagoda in Olser Street.
The Birmingham Buddhist Vihara Trust, which was established in Birmingham during the 1960s to promote the teachings of Buddha, is to run the university.
An open day is to take place this Saturday and organisers hope students from all over the world will enrol.
Trustee John Beard, who is masterminding the creation of the university, said: "We haven't done a recruitment drive yet, but we are confident because of the inquiries we have had that there is an interest."
The university will aim to pass on Buddha's message of peace and enlightenment in a bid to help create "a better world" while also offering students a vigorous degree study programme.
According to Mr Beard, the 2,500-year-old religion had a lot to offer in today's world.
"Buddha was a man who tried to find the meaning of life. If you think of any situation, it is relevant today," he said.
"A lot of people will say Buddhism isn't a religion, it is a way of life. It says you are not allowed to kill anything. All life is precious. The secret for a good life is a lack of material desire.
"We are all chasing the dollar in search of a better life. But if you can slow down and say 'I have got what I want' you will be happy."
Mr Beard, a retired hotelier who has been a Buddhist since his teens, said at a time of religious conflict, Buddhism offered a philosophy that could help heal divisions. "The thing about Buddhism is it doesn't matter what religion you are. We don't proselytize. You can practise your religion and Buddhism as well," he said.
"It can be built on to someone's religion. The idea is to create a better world."
Dr Ottara Nyana, a worldknown authority on the religion, will lead the programme following the Vihara strain of Buddhism.
The University of Birmingham will work in partnership with the Buddhist University validating courses and helping construct the curriculum.
Dr David Cheetham, a lecturer in theology and international religious relations within Birmingham University's theology and religion department, said: "Ultimately, it would be an honours degree in Buddhist studies that would be awarded.
"There will be teaching in all details of Buddhist philosophies including understanding Buddhist scriptures. There will be quite advanced study going on.
"It will be able to offer practical teaching and tuition in mediation techniques and Buddhist practices which will be quite unique."