A Scottish castle for the Buddhist faith
by SARAH ROE, The Scotsman, Dec 7, 2005
Eskdalemuir, Scotland -- A MONK in burgundy robes smiles as he chants a melodic Tibetan prayer to the sound of drumbeat and horn. Prayer wheels bearing thousands of mantras for compassion and purification, silently turn in their brass tubes, and on either side of a smiling golden Buddha, dragons weave around pillars, colourful jewels glinting amongst their scales.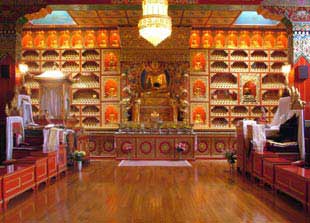 << The grand temple at Samye Ling. Courtesy Samye Ling Monastery
This traditional Buddhist temple is a long way from its roots in Tibet. The Samye Ling Monastery and Tibetan Centre is a surprising find, nestled among the rolling hills of Dumfries and Galloway, near the tiny village of Eskdalemuir.
The monastery, which was established in 1967 on the site of a former Buddhist centre, is the first and largest of its kind in the West. Its ornately decorated temple was designed by Sherab Palden Beru and added in 1988. It is the first part of a three-stage project to build an authentic monastery, which will include accommodation, kitchen and dining facilities, a library of rare texts in English and Tibetan, a museum, lecture hall, audio-visual department and administrative offices.
Our guide, Ani Lhamo, comes from Fort William and has been a nun for 16 years (Ani means "aunt" or "nun"). She has a shaved head and wears the traditional burgundy robes, although the Scottish climate means she has added a burgundy hooded top and padded jacket to keep warm. She explains that the temple, like other parts of the monastery, was built and decorated mostly by volunteers, many of whom had to learn their crafts especially for the job. The ceiling is tiled with intricately painted Tibetan drawings and the walls are painted in bright, primary colours.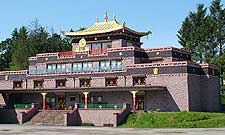 The interior of the main temple features >>
colourful and ornate detail.
Picture: Courtesy Samye Ling Monastery
"There are five main colours, five main Buddha families and five main emotions," she says. The dragon is a prevailing symbol, which is used frequently in drawings and statues throughout the temple. "Dragons symbolise some of the qualities of a 'bodhisattva', or 'saint', including having no fear," she explains. "They hold wish-fulfilling jewels with the ability to provide what anyone wants or needs."
Monk Ven. Gyamtso Tashi works on a sculpture at the monastery.<br/>Picture: Courtesy Samye Ling Monastery
Although the design is traditionally Tibetan, the materials mostly came from local sources, partly because the monastery aims to be a product of its environment, but also for practical reasons.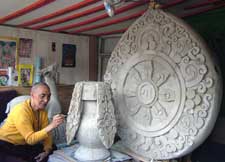 << Monk Ven. Gyamtso Tashi works on a sculpture at the monastery.
Picture: Courtesy Samye Ling Monastery
The temple is the heart of the monastery, where prayer and meditation sessions are carried out at regular intervals every day, as well as on special occasions. Abbot Lama Yeshe Losal Rinpoche, the energetic presence behind much of Samye Ling, leads morning meditations, while nuns or monks lead the prayer sessions, which are open to the public and held before breakfast, after lunch and following supper.
Meals are an important part of monastery life, and we are taken into the newly built kitchen and dining area for a hearty pasta lunch. The atmosphere is convivial and bustling as monks, nuns and several members of the public, who are part of a weekend meditation course, sit down together. Ani Lhamo enthusiastically encourages us to eat as much as we like, although she savours the small amount on her plate.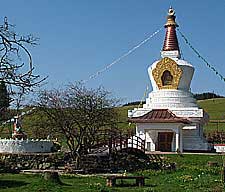 The stupa, or shine, is a symbol of peace >>
for Buddhists.
Picture: Courtesy Samye Ling Monastery
Outside in the Garden for World Peace, the stupa (or shrine) is a startling white and gold against the green hills behind. This symbol of peace represents the mind of the Buddha and is thought to restore balance and transform negative energy. Behind it, an unfinished prayer wheel house will include 45 copper prayer wheels, each with around 40 million mantras inside.
The monastery brings in much-needed revenue through courses, accommodation, sales from its shop and traditional tearoom, and donations. Around 3,000 people visit Samye Ling each year, an economic boost which has helped to woo initially suspicious locals, and is vital for the continued existence of the centre and its charitable work around the world. Despite this, funding is uncertain. The impressive statues, an ornate new gate and several administrative and accommodation buildings require ongoing maintenance and the unfinished third phase of the monastery requires around £7 million, which has not yet been raised.
---
On the web - Samye Ling Monastery and Tibetan Centre
---
But the positive, calm, Buddhist energy that everyone in the centre seems to exude is infectious, and it also appears likely that somehow it will be possible to create the Abbot's vision of a full Tibetan monastery in Scotland. He believes that even the weather in Eskdalemuir – reputedly amongst the wettest and coldest in the UK – seems to be getting milder since the peaceful and balancing qualities of the stupa arrived at Samye Ling.