The Dream World of the Russian Buddhist Republic of Kalmykia
The Buddhist Channel, Jan 7, 2006
Elista, Kalmykia (Russia) -- It was late evening when – after a five hour drive through vast plains of Southern Russia – we finally approached Elista, the capital city of the only Buddhist republic in Europe.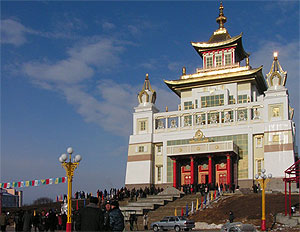 << The Golden temple of hope
Snowflakes were melting in the air before even touching the ground, and a thick layer of mist gave a mysterious, almost surreal flavor to the city that looks unusual enough as it is.
We were slowly driving past a huge poster showing His Holiness the Dalai Lama and the local Orthodox Christian Bishop Zosima hugging and smiling to each other, a vivid reminder of an unbelievable visit of the Tibetan Buddhist leader to his Kalmyk followers, which suddenly became a reality last year, after 12 years of unbearable waiting. It was almost same time of the year, and almost same weather. The local spirits were unrolling their white scarf of snowflakes as a sign of respect and happiness…
Is there any other place in the world where you can find a big picture of the Dalai Lama at the city entrance? - I thought.
Now official Chinese delegations will find it difficult to even enter the city. They will probably have to negotiate at the outskirts, we laughed, remembering that they didn't enter the local monastery last time, when the head of Kalmyk Buddhists Telo Tulku Rinpoche refused pointblank to remove His Holiness picture from the shrine's throne and thus make their visit possible.
We kept going. "Look to the right," said the driver, and we saw a huge seven-tiered pagoda with a golden prayer wheel inside. "To accumulate a good karma and purify an evil one. They will open it tomorrow," he explained.
"And… the temple?"
"Wait. We are almost there."
Nothing had prepared us to what we saw just a few minutes later. And this in spite of the fact that we had seen the drawings and even visited the temple when it was half-completed. The difference between what we dared to imagine in our wildest dreams and what appeared before our very eyes at that moment was so tremendous that it suddenly left us speechless.
Maybe it is a computer thing? A virtual projection made by an unknown IT-genius? It's just cannot be real!
Let's pinch ourselves to see we are not dreaming, - thought or said numerous guests who came to Elista to take part in the opening ceremony of what was called in mass media "the center of European Buddhism" or "Europe's biggest Buddhist temple."
They came from all over the world, but hardly expected a miracle. After all, there are so many temples opening everywhere, why on earth this one should be more special than others? Another thing that filled minds with skepticism was the fact that it took only 8 months to build the temple. What can you possibly build in such a short period of time? Just put up some walls and a roof?
Those who bore such thoughts and doubts didn't take into account one major thing – a blessing of the guru. His Holiness the Dalai Lama was asked to bless the place in the city center just before he left Elista, when his memorable 2004 visit to Kalmykia came to an end. The delegation stopped on the way to the airport for a brief ceremony and Kalmyk President Kirsan Ilyumzhinov promised to complete the temple in one year. Many people then took it as a joke.
Later, he and the head of Kalmyk Buddhists Telo Rinpoche met the Tibetan spiritual leader on several occasions to discuss details of the future project. His Holiness carefully went through the drawings meticulously made by the local architects. The temple didn't look Tibetan. There was something special about its style that reminded shrines that used to be widely spread in Kalmykia before Russian Communists razed them to the ground.
But whatever happened in the past, warmhearted and open-minded Kalmyks bear no resentment. "We want to preserve our unique cultural identity. But past is past," said Telo Rinpoche on the eve of the Repressions Day commemorated by all the Kalmyk people annually. On that day in 1943 they were labeled traitors and deported to Siberia by Stalin. The Autonomous Republic of Kalmykia ceased to exist for 13 life-long years.
It is extremely difficult to reestablish any culture that has suffered such an ordeal, but even more so if it's based so heavily upon Buddhism. It takes a couple of decades to get a highly educated lama who would be able to guide and teach. Expensive trips to India, to His Holiness teachings, are mostly unaffordable for any dweller of Russian remote areas, while the Dalai Lama himself is still a rare guest in Russia due to quite obvious political reasons. All this leaves local people virtually cut off from any source of reliable Buddhist knowledge; they have to content themselves with irregular visits of traveling Tibetan lamas and scarce books.
This bleak description could equally be true for other Buddhist territories of Russia, even though people there had not been deported and asked to forget their national identity.
What makes Kalmykia strikingly different is the presence of two lion-hearted people devoted to His Holiness the Dalai Lama and committed to serve their people whatever happens. The one is a young head of Kalmyk Buddhists Telo Rinpoche appointed by the Dalai Lama and highly respected by anyone in Kalmykia. Another is an equally young President Kirsan Ilyumzhinov widely known for his dream-power and out-of-this-world projects.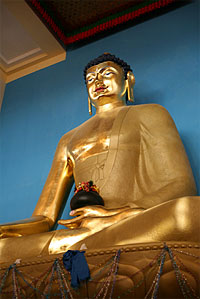 Together, they built 29 Buddhist shrines in Kalmykia, and were the only people in Russia who were discouraged by year after year coldhearted refusals they got every time they applied for a visa for their Tibetan spiritual leader. How can you ever be discouraged if you serve to your guru and your people?
Together, they finally managed to persuade the Russian government to issue a visa for the Dalai Lama, much to the surprise of many in Russia and abroad. Right after that they set an even more ambitious goal – to turn Kalmykia into a thriving center of Tibetan Buddhism in Europe.
The loyalty and devotion to the Dalai Lama that is manifested so clearly among both Kalmyk leadership and simple people, as well as geographical location of the country, right in the heart of Russia, suggested that the plan could become a reality.
The new temple downtown Elista was built by the whole nation. The government was putting efforts to raise funds; everyone, including students and old Kalmyk babushkas, were making small donations, although sometimes it meant the overall monthly income of the family. Singers and dancers were giving benefit concerts.
Construction teams took the project to the heart - Telo Rinpoche said he wished he would be able to put up a throne for the Kalmyk Minister of construction for making the impossible.
Kalmyk and Tibetan monks worked as one strong team filling sacred mantras into four snow-white stupas, four big and 108 small payer wheels and an enormously huge Buddha statue. Again, the biggest in Europe.
Despite all skepticism, the temple was completed in time, as it had been promised to His Holiness the Dalai Lama. "This temple is a sign of what we can achieve, if we are united," said Telo Rinpoche at the opening ceremony.
"We were in a hurry to construct it by the end of December, the tragic day when the deportation of the Kalmyk people started," said the President, calling the monument a dedication to the Kalmyks who died during the years of deportation. "For 13 years in exile, our people believed that we would be able come back to our land. Our golden temple is a symbol of spiritual renaissance of Kalmyk people," he added.
"I have the deepest respect to our senior generations who were able to keep both our religious faith and cultural identity alive. Thanks to your strength and willpower, we can now proudly say – we are Kalmyks, we are Buddhists!" said the head of Kalmyk Buddhists in his heartfelt speech.
"I see the bright future"
Being a tribute to the past, both glorious and tragic, the new temple is also open to the future. This is reflected in its majestic look, new construction materials and golden sparkling of its specially made windows.
Going up and down the temple's stairs, you find yourself again loosing any sense of reality. Where am I now? In South India? Visiting a newly built Sera monastery? Everything is so ready for a busy life of a huge learning center – numerous rooms, a conference hall, a library…
Representative of His Holiness the Dalai Lama in Russia, Mongolia and the CIS Mr.Tashi said that since that moment, "Kalmyk students will no longer have to go to Tibetan Buddhist institutes in India, on the contrary Tibetan Buddhist teachers from India and Nepal will go to Elista to teach students from Kalmykia, other regions of Russia, from the CIS and European countries. Now you have all the necessary infrastructures for this to happen."
Of course, a lot of work is still to be done – the temple will be fully open by June-July 2006. By that time, it will be surrounded by 17 statues of great scholars of Nalanda University who compiled outstanding commentaries to Buddha Shakyamuni's precious teachings. These statues have a particular importance for His Holiness the Dalai Lama who considers Tibetan Buddhists to be spiritual heirs of Nalanda, a major monastic learning center of India that was destroyed by Muslims in 9th century, but only after its teachers had passed their skills and knowledge to Tibetans.
"I think it will be a first temple where you will be able to find sculptural representations of all 17 panditas," said the Dalai Lama in his meeting with Telo Rinpoche and Kirsan Ilyumzhinov. "Previously people paid a particular attention to only 8 Nalanda masters, I added a few more. So, this temple will be a kind of official recognition of my point of view," he smiled.
There is a hope that these rare statues will also bring to Elista an intense atmosphere of Nalanda University, where libraries held 9 million books on philosophy and religion, and where 10 thousand monks and lay practitioners studied the Dharma, analyzed it and debated upon its meaning.
Can something like that be a part of spiritual life in the Buddhist republic o Kalmykia? Or am I day-dreaming? No, this not a Dream World. This is the Russian Buddhist republic of Kalmykia, the country where Tibetan Buddhism was widely spread for many centuries and where it can definitely flourish again.
"I see the bright future," said Telo Rinpoche on the opening day, and with so many hearts and minds being there with him to share his vision, it can become a reality much sooner than we dare to expect. In our wildest dreams.