Development of Europe's largest Buddhist temple progressing well
by Julia Jironkina, The Buddhist Channel, March 24, 2006
Elista, Kalmykia (Russia) -- The works are in progress in the newly built main temple of Elista, capital city of the Russian Buddhist Republic of Kalmykia. Soon to be ready are rooms for high guests and the residence of His Holiness the Dalai Lama where the spiritual leader of all Tibetan and Kalmyk Buddhists is expected to stay during his long-awaited visits to the Buddhist republic in the South of Russia.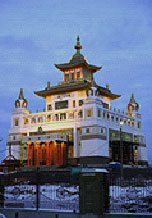 Major efforts, however, are put to create 17 statues of great scholars of Nalanda University which will surround the gorgeous golden temple of Elista miraculously built in 8 months, much to the surprise of many in Russia and abroad.
His Holiness the Dalai Lama, who was asked to bless the site for the future temple just before he left Elista during his memorable 2004 visit to Kalmykia, suggested to install the statues making the Kalmyk temple an only of its kind.
"I think it will be a first temple where you will find sculptural representations of all 17 panditas," said the Dalai Lama in the following meeting with the head of Kalmyk Buddhists Telo Tulku Rinpoche and Kalmyk President Kirsan Ilyumzhinov in Dharamsala last March. "Previously people paid a particular attention to only 8 Nalanda masters, I added a few more. So, this temple will be a kind of official recognition of my point of view," he added.
The 17 statues of Nalanda scholars - who compiled outstanding commentaries to Buddha Shakyamuni's precious teachings - have a particular importance for His Holiness the Dalai Lama who considers Tibetan Buddhists to be spiritual heirs of Nalanda, a major monastic learning center of India that was destroyed by Muslims, but only after its scholars had passed their skills and knowledge to Tibetans. From Tibet, scholastic traditions of Nalanda were then spread to Mongolia and Buddhist republics of Russia.
The first to complete in Elista was the sculptural representation of Arya Nagarjuna whose "Fundamental Wisdom of the Middle Way" the Dalai Lama explained during the recent Kalachakra initiation in Amaravati attended by many pilgrims from the Russian Buddhists territories.
Soon to follow are the statues of Asanga, Shantideva, Chandrakirti and other scholars whose teachings may soon be part of a comprehensive study program that the head of Kalmyk Buddhists Telo Tulku Rinpoche plans to launch in the new temple. The statues of Nalanda scholars installed as an implementation of His Holiness wishes will be a symbol of the reestablishment of classical Buddhist education in Russia.
Source: www.savetibet.ru