Saga Dawa Festival 2006 in London
Tibet Foundation, June 15, 2006
London, UK -- "We remember His Teachings when we celebrate the Buddha's Birthday", said Geshe Pema Dorjee to the followers of Tibetan Buddhism gathered at Tibet Foundation Gallery in central London on Sunday 11 June 2006.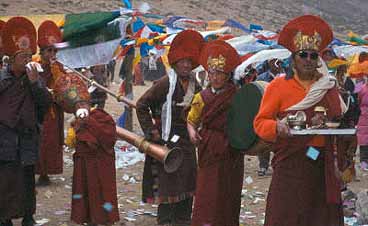 << A traditional Saga Dawa as celebrated in Tibet
"Tibetan Buddhists believe that some 2500 years ago, one of the greatest teachers ever on this planet was born, attained enlightenment and passed away at the age of 81, on this very special day." In the Tibetan tradition, it is the 15th of the Fourth Month and the whole Month is also known as the Saga Dawa Dus-Chen (Saga Dawa Festival).
Geshe Pema Dorjee is the head of the Bodong Research and Publication Centre in Dharamsala, north India. The Centre works towards the revival of Bodong tradition, at the initiative of His Holiness the Dalai Lama, which is said to be in the state of near extinction.
The visiting Buddhist scholar told the audience, "Lord Buddha listened, studied and applied his own logic and then taught us what we today call the Buddhism. Lord Buddha has left a very huge thing - Not Money, Not Property but His Teachings". Geshe Pema Dorjee also said that the Buddha's Teachings have "the potential to resolve all world problems including bringing benefits to all the sentient beings on this planet". Tibetan Buddhists believe that a hundred fold merit is earned when a deed is undertaken with pure motivation on this auspicious day. So traditionally they also engage in lots of offerings, pay special visits to holy pilgrimage sites and say many prayers on this day.
Geshe Pema Dorjee was welcomed by Karma Hardy, director of Tibet Foundation who also introduced Geshe Samten Gyatso and Venerable Samten Gyatso of Drepung Gomang Monastery, Mundgod and Venerable Tenzin Rapten of Nechung Monastery, Dharamsala who all led the Tsok puja. The monks from Drepung Gomang Monastery are currently on a UK visit at the invitation of the Chenrezig Tibetan Buddhist Centre based in Lincoln. This was started a few years ago to support the monks of Drepung Lubum Monastery and teach Tibetan Buddhism in the West.
This event is a part of Tibet Foundation's ongoing cultural programmes to create understanding of Tibetan Buddhism in the West and was concluded by serving a Tsok (feast) offering and tea to everyone.
A special exhibition on Zedpa Chu-nyi: The Twelve Principal Deeds of Lord Buddha continues at Tibet Foundation Gallery until Wednesday 28th June. This Thangka exhibition offers an introduction to the teachings of Buddhism and is open from 12 -6.30pm, Tuesday to Saturday.