Hindered trying to do his bit
Oxford Mail, July 12, 2006
Oxford, UK -- A man "trying to do his bit" for the environment has said recycling banks are overflowing and claims Oxford City Council is failing to pick up recycling boxes regularly.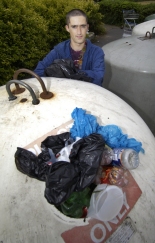 << Free Spirit at an overflowing plastics recycling point in Cowley Retail Park
Free Spirit, a 31-year-old courier from Saunders Road, Cowley - who changed his name by deed poll to reflect his Buddhist beliefs - said: "I go around the area voluntarily and pick up rubbish that can be recycled and take it to the recycling banks.
"The council hasn't come and picked up the recycling from outside my block of flats for the last two weeks so I have been taking it to the recycling bank at Tesco. But it is often jammed full and large piles of plastic bottles surround it.
"I am a Buddhist and part of my belief is to care about the environment. I am trying to do my bit in my area but the council is just not doing its job properly.
"They should provide another bin and do collections when they are supposed to. "
Louisa Dean, a spokesman for the city council, said the Tesco collection point was visited twice a week by the city council, but a separate vehicle was needed for each of the different kinds of items collected there.
She said: "We do visit Tesco very regularly but the way it is kept is dependent on how people use it.
"We have not had any complaints from people living in the Saunders Road area about recycling not being collected.
"Our service is running as normal. But we will investigate Mr Free Spirit's claims now we have heard about them from the Oxford Mail."
In 2004/05, Oxfordshire County Council recycled 30 per cent of household waste and, in 2005/06, 33 per cent.
In May, the Oxford Mail reported a warning to taxpayers in the county that their bills would soar unless the county dramatically improved its recycling record.
Tax on landfill is due to rise by £3 per tonne every year from its current level of £18 per tonne, until it reaches £35 per tonne, because of EU targets.