Russian region readies for Dalai Lama's long-awaited visit
Channel News Asia (AFP), Nov 29, 2004
ELISTA, Russia -- The Buddhist faithful in southern Russia busily prepared for a visit by the Dalai Lama, after Moscow had reportedly decided to finally issue a visa to Tibet's spiritual leader over fierce Chinese objections.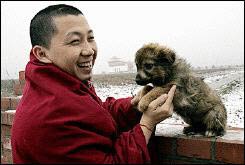 Dozens of volunteers scrubbed floors, vacuumed carpets and washed the windows of a monastery just outside the capital of the Kalmykia region ahead of the Dalai Lama's expected arrival on Monday.
"We are helping to clean up the temple, fill it with flowers," said Tsagana Tsakuginova, an 18-year-old student. "We have been very upset that the Dalai Lama has not been able to come visit us."
"I want to hear and see him and simply touch him," she said.
Kalmykia's flamboyant leader Kirsan Ilyumzhinov has held regular visits with the spiritual leader and has tirelessly campaigned for his visit to Russia.
The revered 69-year-old was expected to stay in Kalmykia until Wednesday.
He has not visited the sleepy province since 1992, when he made a tour of Russia's Buddhist regions that also included the Siberian regions of Buryatia and Tyva.
He came to Moscow for three days in 1994 and passed through Russia in 1996 while in transit to Mongolia, but Moscow has repeatedly refused to allow him into the country during the past several years because of pressure from China.
China, which has ruled Tibet since 1951, regularly protests over the frequent travels of the Dalai Lama, whom it accuses of being a separatist.
Following Russia's announcement on Friday that it had decided in principle to issue the revered Tibetan leader a visa, Chinese Foreign Minister Li Zhaoxing stressed Beijing did not approve of countries allowing him to travel.
"We are against any country having official relations with him," Li said on the sidelines of a meeting of East Asian foreign ministers in Laos.
"The Dalai Lama is not an ordinary religious person but a splittist who engages in splittist activities," Li said.
"We don't approve of any countries allowing him to use their territory to organise splittist activities and sow discord in China's relations with other countries," he said.
Moscow stressed in Friday's announcement that the Dalai Lama's visit would "be strictly religious in nature."
"We view Tibet as an inalienable part of the People's Republic of China, and everything that goes on there (in Tibet) as an internal Chinese affair," the ministry statement said.
"At the same time, the Russian constitution guarantees people's religious right. We respect (the beliefs) of more than a million Buddhists in our country, who have repeatedly called for a visit by the Dalai Lama."
Moscow said initially it relented on the visa issue this time because the Dalai Lama's trip would not be political in nature.
"The decision on this pastoral trip became possible after taking into account its strictly religious goals and the Dalai Lama not participating in any political events on the territory of our country," said the foreign ministry statement.
The Dalai Lama has lived in India since he fled Tibet in 1959 amid a failed uprising against Chinese rule. He and the Tibetan government-in-exile have their headquarters in the northern hill station of Dharamsala.
Once known as a quiet agricultural region where sheep outnumbered inhabitants by 10 to one, Kalmykia lies on the Russian steppes in the northwestern corner of the Caspian Sea, mainly peopled by Buddhist descendants of a Mongol tribe which traveled West in the 17th century.