Dalai Lama to Spread 'Human Values'
By Misha Japaridze, The Associated Press, November 30, 2004
ELISTA, Kalmykia (Russia) -- The Dalai Lama arrived Monday on his first visit to Buddhists in Russia after Moscow abruptly reversed its refusal to grant the Tibetan spiritual leader entry.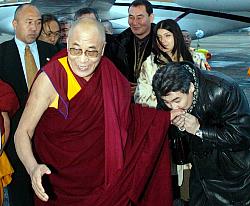 The Foreign Ministry had said the Dalai Lama would be given a visa in the expectation that he would limit his activities solely to pastoral purposes, visiting largely Buddhist communities in the southern republic of Kalmykia.
Half the 300,000 residents of the republic are Buddhists. In all, Russia is home to about 1 million Buddhists.
The Dalai Lama, who lives in exile in India, also leads Tibetans who resist Chinese rule. Russia, wary of upsetting China, has rejected visa requests for the Dalai Lama at least three times.
"Considering the numerous requests by the leaders of the Buddhist community and rank-and-file citizens of Russia, the Dalai Lama has been given a visa," Foreign Ministry spokesman Alexander Yakovenko said in a statement Monday.
Buddhist priests from the republics of Buryatia and Tuva, as well as Mongolia, met the Dalai Lama's plane, Interfax reported. It quoted him as saying that the main purpose of his visit was to spread "human values."
He was due to consecrate a temple that was built in Elista eight years ago.

In the hours preceding the Dalai Lama's arrival, workers erected a large billboard picturing the spiritual leader against an idyllic background of a waterfall and fast-flowing creek in a forest.
China occupied Tibet in 1951 and claims that the Himalayan region has been Chinese territory for centuries. Russia has refrained from any official contacts with the Dalai Lama, saying it considers Tibet "an inalienable part of China."
"The Buddhists have broken the 'Chinese Wall' of Russian diplomacy," Vremya Novostei commented in a headline Monday.
It said the Dalai Lama had been required to send a letter to President Vladimir Putin, promising to refrain from any political statements.
He told Time magazine last month that Tibet would be better off under China's rule if Beijing guaranteed that it would protect Tibetan culture.
"Perhaps it is precisely these words that brought the breakthrough," Vremya Novostei speculated.
Signaling the sensitivity of the planned visit, the Foreign Ministry on Friday announced that a visa would be granted, but within hours Yakovenko said the visit was in question because of the "unnecessary uproar being created around the Dalai Lama's possible trip."