Russians trek to see Dalai Lama
Taipei Times (AFP), Dec 1, 2004
ELISTA, Kalmykia (Russia) -- Hundreds of Buddhists in southern Russia yesterday marched through snow to see and hear the Dalai Lama as he continued a long-awaited visit to the country in spite of Chinese protests.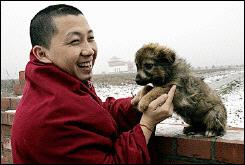 << FAITHFUL PILGRIMAGE: Nearly a thousand residents of Kalmykia walked through heavy snow to see Tibet's spiritual leader, on his first visit to the region in eight years
Nearly a thousand residents of the Buddhist region of Kalmykia walked through heavily-falling snow to a monastery outside the capital Elista, where Tibet's spiritual leader was due to speak later in the day.
Yesterday marked the second of a three-day visit to Kalmykia by the Dalai Lama, the first time in eight years that he has been allowed onto Russian territory, and only the second time has visited the Buddhist region.
"I would like to express my greeting to my longtime friends," he said on Monday after flying in from New Delhi.
"My main interest is promotion of human values because I believe that in order to have a happy human community and in order to have a happy family, the basic human values are the foundation," he said.
Monday marked the Dalai Lama's first trip to Kalmykia since 1992, when he made a tour of Russia's Buddhist regions that also included Buryatia and Tyva in Siberia.

The Dalai Lama drinks tea as he sits on a raised platform under an elaborately carved gold statue of Buddha at Khurul Monastery, near Elista, Russia, yesterday.
PHOTO: AP

"Even if it is a short visit, it is very important for us," said Telo Rinpoche, the spiritual chief of Buddhists in Kalmykia. "Thanks to the support of His Holiness the Dalai Lama there has been great progress in the renaissance of the Buddhist faith in Kalmykia."
Local residents have been asked to abstain from smoking and drinking alcoholic beverages and authorities have promised to close all casinos in Elista and its environs during the Dalai Lama's three-day sojourn.
Kalmykia's flamboyant leader Kirsan Ilyumzhinov has held regular visits with the spiritual leader and has tirelessly campaigned for his visit to Russia.
It is the first time the Dalai Lama has been allowed onto Russian territory since 1996, when he passed through on his way to Mongolia. Russia has resisted other visits because of pressure from China.
China, which has ruled Tibet since 1951, regularly protests over the frequent travels of the Dalai Lama, whom it accuses of being a separatist.
After Moscow announced that it would issue him a visa last Friday, Beijing stressed that it was "against any country having official relations with him."