Unique Kathina Ceremony at the Letchworth Buddhist Vihara
by Tharaka Kothalawala, OCt 16, 2006
Letchworth, UK -- The residents of the world's first garden city, Letchworth witnessed the practice of a unique Kathina Rob Offering Ceremony held after the Vas (rains) retreat.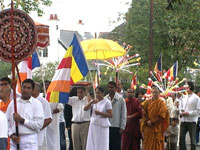 This annual Kathina Ceremony organised by the Buddhist Community Centre in Letchworth was a very unique event that included a very colourful traditional Buddhist procession across the Letchworth town centre. It was sponsored by Mr & Mrs. Leslie Gunarathne and family from London.
The main feature of this year's 'Kathina' ceremony was the traditional 'Kathina procession' that went around the city. The procession led by Kandyan drummers followed by all the usual traditional artefacts found in this type of a procession. Two little girls held coconut flower as 'sesath' bearers followed. The 'Dhathu Karaduwa' containing sacred relics of the Buddha was also included in the pageant with much respect.
The pageant was participated by the young and the old alike. Most participants chose to come in white attire to join the auspicious event. Local residents were seen gathering on to the roads as the pageant passed by to get a glimpse of this rare Buddhist meritorious event.
A part from the lay devotees, Ven. D. Wimala, Ven. T. Bandula, Ven. W. Wimalajothi, Ven. K. Sri Rewatha, Ven. S.M. Sujano attended the Ceremony. This year's rains retreat was observed at the Letchworth Buddhist Vihara by Ven. Nahalle Rahula (Chief Incumbent) and Ven. Dodamgoda Sumedha .
The Letchworth Buddhist Vihara has become one of the popular places of worship since its inception six years ago not only amongst Buddhists but also among followers of many other religions and faiths. People those who visit the Vihara aren't just locals but come from as far away as Cambridge, Birmingham, Luton, Stevenage, Hichin, Bedford and London. Being a unique Vihara that is managed and run by an elected committee, the Letchworth Buddhist Vihara runs as a registered charity, has been recognised by the local authorities having been granted the status of a 'Buddhist Community Centre'.
This is a centre for all the religions and faiths without any discriminations. The centre also helds different religious activities and promoting social cohesions. You all will be achieve peace and happiness once you get in to.